Stocks got off to a rough start in January and February as investors began to fear another recession. At the same time, consumers continued to keep the U.S. economy moving in the right direction. This divergence caused us to ask, which one is right? Are things getting better or worse? If the market is going to improve how strong will it be? Below is a list of what I think we need for stocks to move to new highs. Feel free to check the boxes if they become a reality.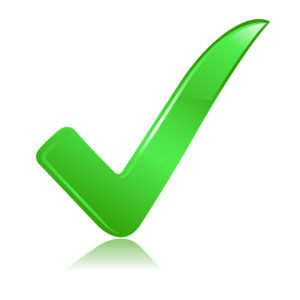 (1) Oil prices stabilize.
Investors need a dose of reality: low oil prices are good for the economy. Falling oil prices often follow, but do not lead to, recessions. What we need is for prices to stop declining so rapidly.
Oil is falling because the global supply is much
greater than demand. Even at these low prices, producers need to pump oil for cash. Fortunately, the decline is slowing. This is because demand and supply are getting close to a balanced level.
Global oil demand is at 96.5 million barrels/day and growing at 1.5%. Global supply is at 96.9 million barrels/day and is currently falling at a rate of -0.5%. This does not mean prices will move significantly higher, but they may stop falling.
With sanctions lifted, Iran could boost supply by 4 million barrels/day. Demand won't grow fast enough to balance that much oil for a few years.
So, get used to low oil prices. They may be with us for a while–probably until several indebted producers cease oil production. At that point, oil prices could rise a little, fear over corporate debt should ease, and stocks will be more likely to climb.
(2) Political frontrunners emerge.
Who will be the next President of the United States? Investors are uncomfortable with this uncertainty, but they don't have to wait until Election Day to feel better. With each election primary, the uncertainty diminishes.
(3) The Fed acknowledges global volatility.
What happened to "data dependence"? With its December rate hike the Federal Reserve announced that it intends to slowly raise rates in 2016 and 2017. It defined slowly as four rate hikes of 25 basis points each.
Rather than applaud transparency, investors have questioned the Fed's determination.
Globally, central banks are doing the opposite: dropping rates to levels below zero in order to encourage risk taking, economic growth, and job creation.
(4) Evidence of consumer spending increases.
Will consumers continue to hold up this economy? The U.S. consumer represents 70% of the U.S. economy. China, on the other hand, represents approximately 2% of direct trade with the United States. That means that the consumer is 35 times more important.
Consumers are stronger than any time in the last 25 years. They are pocketing roughly $1,000 a year in energy savings. In 2015, spending increased 3% while purchases rose for autos (+5.8%) and homes (+7.5%).
With all of the good news about the consumer, the main concern is if these numbers are peaking. I think not. Unemployment is low (4.9%). Job postings are high (5.4 million). Wages and salaries increased by a reasonable and healthy level (+2.9%).
The final bit of good news on the consumer is that their debt-to-income levels are near their lowest point since the government started tracking them in 1981. That means there is still room for this 70% of the economy
to grow.