Why Federal Reserve Shouldn't Lower Rates, But Will Anyway
I don't remember a time when people have been more worried about a recession than they are now. Even the Federal Reserve has been so cautious that it has painted itself into a corner. It plans to lower interest rates on July 31st even though there is little need to do so.
The Fed cuts rates in order to stimulate greater borrowing and spending. It believes that the economy may have peaked in 2018 and may only be growing by 1.6 percent right now (Federal Reserve Bank of Atlanta). That slowdown has the economists at the Fed worried. They have repeatedly implied they are looking to lower rates. Such action is likely to boost the economy by causing a domino effect in the interest-rate world–affecting everything from savings to mortgage rates.
However, lowering rates now does not seem like the Fed's "style." Justin Lahart, a writer for The Wall Street Journal, summed up the current situation with the Fed nicely:
"William McChesney Martin, the Fed chairman in the 1950s and 1960s, quipped that the Fed's job is 'to take away the punch bowl just as the party gets going.' Today's Fed plans to spike the punch instead."
However, ignoring expectations of a rate cut after the Fed members have been so vocal in favor of such action could be shocking. So, it is possible that the Fed will make a change in July while emphasizing all the positive things going on. That would communicate to investors that more rate cuts are unlikely unless the data changes.

The Fed was created in 1913 in order to make this nation's financial system more stable and more flexible. It seeks steady prices (inflation) and high employment. Right now, we have both. Inflation is currently at 2 percent–a goldilocks number that is neither too hot nor too cold. Unemployment is at 3.7 percent, which is the lowest level since December 1969.
So, what is the Fed so worried about? U.S. manufacturing is going through a slump. According to Morgan Stanley, new orders for U.S. goods are at their worst levels in 5 years, and they are trending down. It should be mentioned that manufacturing represented just 11 percent of the U.S. economy in 2018.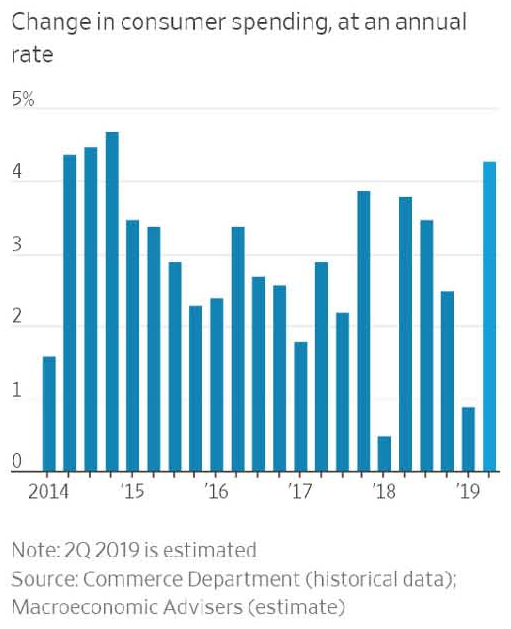 American consumers, we drive nearly 70 percent of the U.S. economy. According to the Commerce Department, our spending jumped by 4.3 percent in the second quarter of 2019. That is being helped by a rise in wages, which just bounced higher. The Federal Reserve Bank of Atlanta estimates that over the last year, wages have risen by 3.9 percent.
There may be some extra gyrations in the stock market as investors try to forecast the Fed. Hang in there. The good news, according to Ned Davis Research, is that if the Fed does lower rates and the economy turns out not to need it, the stock market has historically done well.