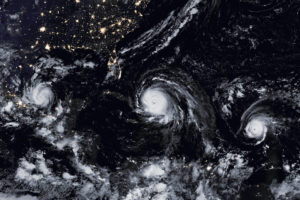 Since our last Money Moxie®, we have seen two massive hurricanes lash the U.S. coast. In spite of these and other risks, the stock market has continued to add to its 2017 gains. What's going on? Is the market's response rational?
Counting on rational behavior —or even reasonable behavior—from investors during a crisis could be costly. So, even if you don't expect to be directly impacted by a hurricane or other disaster, you may still feel some financial fallout.
Gas Prices: Hurricane Harvey pushed gasoline futures up 10 percent in trading on the New York Mercantile Exchange as investors anticipated refineries would shut down. The increase soon spread. According to AAA, the national average rose from $2.35 to $2.66 a gallon—a 13 percent increase.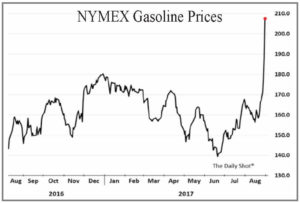 Employment: Economic suffering is also evident in employment. Following Hurricane Harvey, the Labor Department reported the largest one-week jump in initial jobless claims since superstorm Sandy. Two weeks after Sandy (2012) and Katrina (2005), jobless claims soared higher by 23 percent and 30 percent, respectively. So, the full impact of Hurricane Irma on this measurement is still coming.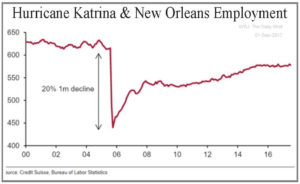 Consumer Spending: Nearly 70 percent of the U.S. economy is driven by stable consumer spending. When gas prices rise nationally and employment falls locally, there is less money for discretionary spending. The city of Houston, for example, has nearly 3 million workers and contributes around $500 billion to the economy. (Internationally, that places Houston's economic value above that of the entire country of Sweden.)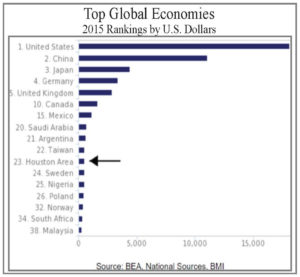 Destruction and Reconstruction: Destruction is not counted in economic output. It shows up only as falling wealth. Reconstruction, often financed by debt, will eventually have a large impact on growth and cause a bump for inflation.
The overall impact could subtract around one half of a percent from U.S. growth. Fast forward 6 months and there should be a boost that approximately evens things out.
Investors concerned with natural disasters would be wise to maintain perspective. The lasting impact will be evident in the higher debt and human costs. Ultimately, this impact on individual lives is the most devastating.