With life expectancy increasing each year, saving for retirement is becoming more important. You've worked hard your entire life, sacrificed to take care of others, and now, as you're nearing retirement or are in retirement, it's your time to live out your retirement dreams!
Sounds great, right? But then you realize the amount you've planned to live on each month is not enough because you are helping your adult child out each month financially. You could be helping them out with their mortgage, car loan, student loan, or the emergencies that come up each month; and you realize your retirement dreams will either have to wait or be downsized.
According to Consumer Credit, 31 percent of parents financially support an adult child on a monthly basis.1 If you find yourself in this situation, it's time to set yourself free of the financial burden and empower your children to stand on their own feet.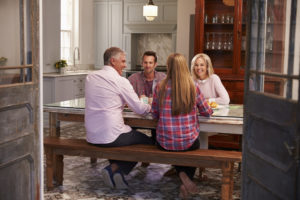 Here are some ideas to empower your child:
Set boundaries
Let your child know you love and support them and want them to be able to take care of themselves without relying on you.
Have a candid conversation about your retirement plans and how your independence is impacted because of the money required to support them.
Explain that if something major does come up, you will be there for them. Define what those issues are and are not. For instance, compare medical emergencies to their kids' need for new clothes. One you cannot plan for and the other you can.
For more information, the book, Boundaries: When to Say Yes, How to Say No to Take Control of Your Life by Henry Cloud is a great resource.
Create a game plan
Whether your adult child has just graduated from college or has a family of their own, it is critical to come up with a plan that will enable you to live your retirement dreams and allow your child to achieve financial independence.
Create a timeline long enough that your child will be able to get their finances under control.
Help them create a budget that will enable them to live on their current income. If expenses are higher than take-home pay, sit down and work through it by looking at their needs versus wants.
Budgeting is a great way to know how much money can be spent on items such as groceries, gas, clothing, etc. Once money is used up for the month, they will have to wait until the next month to purchase certain items.
Use personal growing experiences
Transparency can demonstrate to your child where you are financially and why it is important for your child to prosper without relying on you.
Use examples from your past where you wish you would have made better financial choices. Be sure to include what you learned and how the experience changed you. Your children will see that they too can make it out of a tough financial situation.
Financial conversations can be difficult. Yet, they are crucial to both your financial freedom and your child's financial success!
1. http://www.consumercredit.com/financial-education/infographics/the-cost-of-supporting-adult-children-or-elders.aspx