Americans want a strong country and growing economy. That much we agree on. Of all the promises we heard this election year, none may be more difficult to keep than the commitment to boost growth up to levels last seen decades ago.
Since 2009, the U.S. economy has increased at a rate of 2 percent. Many countries envy that number, but Americans expect more. Our increases were twice as big 20 years ago.
In all of human history I know of no other time with such miraculous growth as post World War II. We have come to accept boom times as normal.
From 1948 to 1973 the average economic output of an American worker doubled. That productivity trend continued until the early 2000s when it suddenly slowed.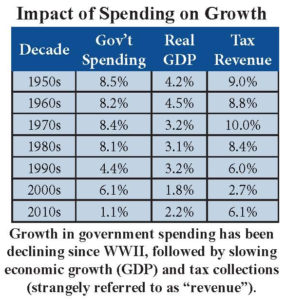 Consumers Carried the Economy
The "Great Recession" of 2008-2009 complicated things further by drastically altering Americans' perception of stability and diminishing their tolerance for government debt.
This led to tighter limits on government spending, which has been a huge drag on economic growth. The federal government has cut spending 4 of the last 5 years. This is good short-term because it reduces debt. The long-term impact is less certain.
How much can our economy grow when the government is cutting spending? Who picks up the slack? Businesses have been hesitant to reinvest large amounts in long-term projects. So the responsibility for economic growth has fallen on the shoulders of the U.S. consumer.
Politicians Turned to Spending
Today, politicians and economists are calling for stimulus. What form this takes is yet to be seen, but the popularity of such an idea is rising. Both presidential candidates announced plans to increase government spending to improve infrastructure and stimulate an atmosphere of growth. Donald Trump plans to increase spending by $500 billion. (Hillary Clinton proposed bumping it up by $275 billion.)
Will Stimulus Work?
The answer for decades following the Great Depression was "yes." The theory is that for every dollar the government spends it can boost the economy by several dollars—creating more wealth than was spent as the dollars circulate through the country.
It fell out of favor in the 1980s and 1990s. Now it's back.
If stimulus is going to work then it should be concentrated on "fiscal multipliers." These are the best places and they are often described as levers that can be pulled to actually create growth in the economy.
For stimulus to work it should be focused on the most effective area: infrastructure. Why?
1. Immediate creation of jobs
2. Jump in demand for construction materials
3. Greater efficiency for the entire economy
4. Investment in the future of America
Our bridges, airports, and freeway systems are in need of repair. Our electric grid is outdated and vulnerable as well. Technological advancements have redefined living. It may be time to apply some innovative American ingenuity to our infrastructure.
If there ever was a time that Americans could benefit from this stimulus it would be following a lack of spending—a situation we now find ourselves in.
*Research by SFS. Data from the Federal Reserve Bank of St Louis. Past performance does not guarantee future results.