On May 21st, the Federal Reserve Chairman, Ben Bernanke, announced that the Fed was going to start tapering their bond buying program sometime in the fall. In essence they feel the economy is doing well enough that they don't need to keep pumping as much money into it. Ironically, the better economy is both good and bad news, depending on your perspective.
The bad news came as mortgage rates jumped about one-half a percent within a month. That left many people wondering how they will be impacted as interest rates continue to rise in the future. Here are five things you should know about how rising interest rates will impact your mortgage, savings accounts, and investments in bonds.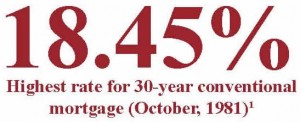 1. Mortgage rates are still low, but are on the rise.
The mortgage rate cruise ship has just started its engine as it prepares for a long cruise to the North. We have probably seen the lowest rates that we will see for a long time, maybe even our lifetime. This isn't to say that everyone should abandon ship and never plan to move. Life doesn't work out that way. It just means that if you are planning to move, and the move is in your control, then it may be better to move sooner rather than later.
Interest rates in the 4's and even 5's are still incredibly good by historical standards. As interest rates rise, you will either see your anticipated mortgage payment rise, or you will need to look for a slightly smaller and less expensive home. For example, the monthly payment on a 30-year mortgage of $400,000 went up by about $100.2 So, either you will find it in your budget to afford the additional $100 or you will look for a less expensive home.
2. If you are thinking of refinancing, you better do it soon.
Most people with equity in their home and great credit have already refinanced. However, if you have procrastinated, listen to the last call of "all aboard" and get on the low rate cruise ship before it leaves the harbor. If you didn't have enough equity to qualify before, check again, because "rising (home) prices pushed 850,000 homes into the black in the first quarter."3 If you are still underwater, you may be available to refinance through HARP. Check out the details at Harpprogram.org.

3. Lock in your rates now, if you are ready to buy.
This may help you avoid any short-term rate spikes. "Most lenders won't charge for a 45- or 60-day rate lock."4  Only pay for a longer rate lock if the deals are closing slowly. You should be able to ask your lender about this ahead of time. Also look for a free float down option in case the rates dip a little. Mortgage rates are still close to their all-time lows. So, lock in a rate for a long time, especially if you are looking to get a 30-year mortgage.
In this current environment, an adjustable mortgage makes sense only if you know you will move within a few years. You don't want to get a 5-year adjustable loan and stay in the home for 30 years.
Rates going up will probably slow down the housing recovery a little, but it won't be derailed. Rates are going up because the economy is healthier. For savers, the increase in interest rates is a mixed bag.
4. Interest in savings accounts, CD's, and money markets will increase.
This is good news and bad news. The good news is that the abysmally low rates we have seen for the last few years will go up a little. The bad news is that you probably still won't keep up with inflation.
One concern is that we may have inflation like we did in the '80s. So, if you are looking at putting your money in a CD or other investment that is locked up, avoid locking it up for a long time. For example, right now may NOT be a good time to put your money in a 5-year CD paying 1%. Inflation was already 2.1% in 2012.6
If inflation goes up higher, being locked in and earning only 1% would feel like a jail sentence. Another strategy would be to place your money in a one-year CD and roll it into a new CD every year anticipating that rates may go up each time you renew.
5. Bond investors, be cautious.
Since the market crash in 2008, many people have fled the stock market and moved into bonds in search of safety. However, bonds are not without their own risk. As inflation increases, the value of a bond may actually go down.
Many bond investors have seen this firsthand as they have watched bonds in their account stay flat or go down despite the growth in the stock market this year. This is not to say that you should get out of bonds completely. Even aggressive investors often have some bond exposure to help with the unpredictability of the future. However, in a rising interest rate environment you have to pay attention to what types of bonds may still do well and incorporate those bonds into your portfolio.
The good news is that there is a general consensus that the U.S. Economy is healthier and continuing to move in the right direction. However, this will most likely lead to higher interest rates, which can be both good and bad. Pay attention to how you will be impacted and if needed, make some moves now so the impact won't be a tidal wave.