Every year we find reasons to question the future prosperity of America. We wonder whether investors' prospects are dimming. Last year, our minds were occupied with government slowdowns and shutdowns. This year, we are more focused on the question, "Has the stock market come too far too fast?" While the problems are real, they should not derail us from our plans. Most difficulties are overcome and the myths of the market are not true. Keeping proper perspective will help us make better financial decisions.
Myth #1: Investing is rigged
The U.S. stock markets are the most efficient in the world. All investors have the potential to build their wealth as they participate in it. The longer we invest in a diversified portfolio, the more likely we are to have success.
There is a related question, "Is investing like gambling?" The clear answer is no. When we invest we purchase part of a company (stock) or a promissory note (bond). We become owners of these and we have rights to future cash flows that may come from them. The risks and outcomes are determined by the free market. If a company is successful then all investors that own it have the potential to benefit.
This does not mean that markets are perfect. There have always been some who try to take advantage of others. However, investors become their own worst enemies when they make poor financial decisions. Saving too little and trading too often are two of the most common mistakes. Save sufficiently and invest wisely to attain your goals.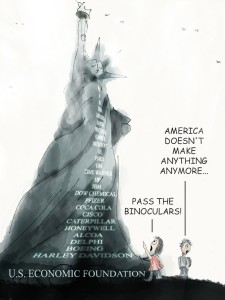 Myth #2: America is broke
The United States is in better shape now than it has been for many years. The unemployment rate is down to 6.3 percent and consumer confidence is up. Workers are expecting raises, and according to surveys of executives it looks like it may actually happen this year. Household debt is at record-low levels and corporations have more cash than ever.
Some people may argue that we don't make anything in this country. This is false. U.S. manufacturing is up 22 percent since 2009 and near record levels. We have an abundance of natural resources, educated workers, and innovation. We have laws to protect and promote business.
Worries over ballooning government debt (over $17 trillion) are diminishing for now. The expanding U.S. economy has led to greater tax revenue (up 8 percent) and a lower deficit ($306 billion). These numbers may not sound great. We still have a long way to go to reach a surplus so we can pay off some debt, but these are the best numbers since 2007. The future appears brighter.
Myth #3: A market crash is imminent
Herbert Stein famously said, "If something cannot go on forever it will stop." We all know that when the market stops climbing, it can be painful. Two stock-market crashes in the last 15 years are still vivid in our memories. However, just because stock prices have increased doesn't mean a crash is coming this year.
What can we expect?
The Dow Jones index had double-digit increases in 2012 and 2013. This has happened more frequently than one might think. In the last 99 years, returns of this magnitude have occurred back to back 22 times. What happens in the year that follows two positive, double-digit years? The average return is a positive 5 percent. That would be a reasonable expectation for 2014.
When we examine critical factors for a healthy market, we see more positives than negatives right now. Of course, there are no guarantees.