There is no shortage of controversy surrounding Obamacare. Apparently there is also much confusion around its name. Jimmy Kimmel, the late night comedian, proved that people don't have their facts straight. He had a camera crew ask people on Hollywood Boulevard which they liked better: Obamacare or the Affordable Care Act. One woman explained that Obamacare has "a lot of holes in it, and I think it needs to be revamped." The same woman felt that "the Affordable Care Act is better." She wasn't the only one. Most people had similar opinions. Just to clear up any misconception, they are one in the same.
One thing that is certain is many Americans will have their medical insurance costs increase this next year. This is largely due to medical carriers revamping their plans to be in compliance with the new law.
Forbes reports that 41 states will experience premium hikes. In Utah, individual-market premiums are expected to increase by 24%.1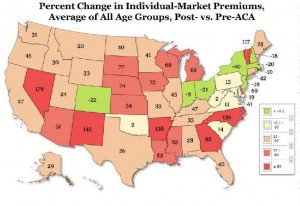 In one case, a single mother with 5 children had the cost of insurance increase from $827 per month to $1045. That is a 26% increase for one year.2
Seniors may also be indirectly impacted by the new law, which imposes spending cuts by reducing payments to hospitals and doctors, while increasing incentives for more efficient care. Supporters say this will strengthen the Medicare program in the long-term. Opponents say that seniors in Medicare will find it harder to access their benefits because more doctors are refusing to treat Medicare patients.3
The silver lining to all of this is that 30 million Americans will now have access to health care, and
many of those will be eligible for subsidies.
To see if you may be eligible for a subsidy, go to the calculator at http://kff.org/interactive/subsidy-calculator/.
If you are eligible for a subsidy, you will need to apply for insurance through an exchange. When an exchange determines that a person is eligible for a tax credit based on expected income, subsidies will be paid directly to insurers to lower the cost of premiums.
Consumers purchasing insurance through an exchange "can pick from four levels of coverage, from bronze to platinum, with the greatest differences appearing in cost sharing features such as annual deductibles and copayments. Bronze covers 60 percent of expected costs; silver covers 70 percent; gold covers 80 percent; and platinum covers 90 percent."4
After subtracting subsidies, a 27-year old in Salt Lake City earning $25,000 per year would expect to pay $95 a month if he chooses the bronze plan. A family of four in Salt Lake City with an income of $50,000 per year would expect to pay $122 per month for the bronze plan.5
The bottom line is that health care subsidies will be beneficial for low-wage and middle-income families. If you make too much to qualify for subsidies or if you are covered by an employer plan, most likely your premiums are going to increase. As the Supreme Court said, this increase is a "tax." Make sure to plan those increased "tax" expenses in your monthly budget.