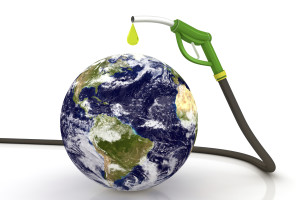 The Dow Jones Industrial Average crossed 18,000 for the first time in December 2014. No one knows where it will end in 2015, but I thought it would be appropriate to begin the year with 5 predictions I am comfortable with.
(1) Oil prices will remain near their lows until a major supplier cuts production. Oil prices matter as much as any price. When they drop, it is generally considered to have a positive impact on the economy. This time feels different because prices are dropping so fast. Since June 20, 2014, the price of oil has dropped over 55 percent.
Gas prices at the pump are at levels last seen in the spring of 2009 and stockpiles of oil are at record levels. Demand is down and there is no shortage anywhere.
So far, members of OPEC, Russia, and other major suppliers have been unwilling to slow the flow. Many are just too desperate for money to be the first to cut production.
As the abrupt drop in prices slows it will become clear that low energy prices are good for the U.S. economy. Americans are already reaping the benefits as sales for new cars rose by 6 percent (16.5 million cars sold) in 2014.
If you are thinking about a new car please remember that prices will eventually rise.
(2) The trend in job growth and moderate wage growth will continue. Over 5.2 million unemployed Americans were hired in 2014—the most since 1999. With unemployment at 5.6 percent, employers may have to increase wages in order to bring in more productive workers. Keep your eye on wages!
(3) The Federal Reserve will be more patient with rates than most investors expect. With slow global growth, low inflation, and a strong U.S. dollar, there just may not be a compelling reason to raise rates this summer.
(4) Increased volatility will continue in 2015. The third year of a president's term is hands down the best historically, but we expect this year to have above average volatility. Momentum has become so positive that 2015 is unlikely to be as good as 2014.
In the coming year, we expect positive results but with greater interruptions. In other words, we expect more frequent drops like those experienced in October and December of 2014 as investors digest a combination of factors: a slow global recovery, positive job creation numbers and high domestic stock valuations.
(5) The world will not pull the United States of America into recession. The strength of the U.S. economy is the envy of the world. We are more likely to lift the global economy than to sink with it. For at least 100 years our economy has led the world and there is no reason to think that things will be any different in 2015!