The U.S. economy begins 2015 with the best momentum in over a decade. For years investors have questioned whether tepid growth could overcome the slack caused by the 2008 recession and the collapse of the housing market. Now it is time to move on. The question is whether the U.S. economy is strong enough to pull the world out of its current slowdown.
Global Summary
There were plenty of reasons to be afraid of investing during 2014: Russia invaded Ukraine, United States joined a war against I.S. (or ISIS), spread of Ebola, and the quick collapse of oil prices.
Europe's economy shrunk by 0.1 percent in the second quarter and then grew just 0.1 percent in the third. Japan is experimenting with government stimulus and China is slowing down.
In spite of these fearful events last year, the S&P 500 managed to achieve a double-digit gain for the third year in a row. This had not occurred since the late 1990s when the S&P 500 reached a 10 percent or greater rise 5 years in row.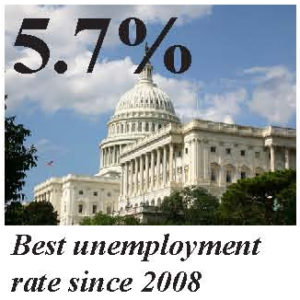 U.S. Employment
Approximately 3 million new jobs were created in 2014—making it the best year for new jobs since 1999. Unemployment improved as well, ending the year at 5.6 percent—the best level since 2008.
The average U.S. consumer spends just about every dollar earned. This spending drives nearly 70 percent of the economy. While debt levels as a percent of income are relatively low, so is wage growth.
Incomes in the United States increased at just 1.8 percent during 2014. With that lackluster change consumers are not likely to boost spending significantly.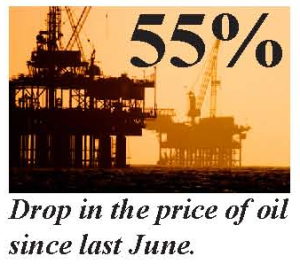 Gas Prices
The global supply of oil is surging thanks to producers in the United States and Canada. Members of OPEC seem unwilling to cut production. This combined with slowing global growth led to an epic 55 percent drop in prices since last June. This means lower prices for consumers.
The average price per gallon in December was just $2.54 and prices have continued to fall in January. The savings per household will likely be between $500 and $1,000 in 2015.
Summary
When it comes to investing in global markets, the winners and losers rotate unpredictably each year. Last year, the winner was U.S. large companies. This year it may be different. This is why including large, small, and foreign investments in your portfolio should help you achieve better results over many years.
*Research by SFS. Data from public sources. This is not a recommendation to purchase any type of investment. Investing involves risk, including potential loss of principal. The S&P 500, S&P 600, Dow Jones Global, and MSCI Emerging Markets are indexes considered to represent major areas of the stock market. One cannot invest directly in an index. Past performance does not guarantee future results. Please see disclosure on opposite page for more detail.