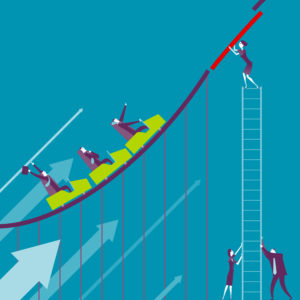 The NASDAQ surpassed 5,000 on March 2, 2015. The last time this tech-heavy stock index hit this level was March 9, 2000. Those were exuberant investment days that would not last forever. Are we destined to repeat the past or is the stock market more stable this time?
Prior to June 1998, there is no record of a company having ".com" in its name. However, there was a dramatic change in the next 18 months as 95 companies changed their names to be ".com" related. One example was Computer Literacy, Inc. It changed its name to fatbrain.com in 1999.
Dr. Michael Cooper, now at the University of Utah, studied what happened to companies that changed their names in 1998 and 1999. He discovered those that had an Internet-related change in name experienced a 74 percent jump in value in just 10 days! This phenomenon was observed regardless of what the company did. Many did not seem to have anything to do with the Internet.1
Let's go back to our example. In the 10 days surrounding fatbrain.com's name change, the value of its stock popped a whopping 33 percent!2 Expectations were out of this world.
In 2000, investors celebrated what was then called "The Economy." In those dot.com days the Internet was all that seemed to matter. Then the NASDAQ hit 5,000 and the exuberance reached a tipping point.
The index only stayed above 5,000 for two days before the bubble burst and a bear market began. By the time the NASDAQ hit bottom in 2002, it had lost more than 75 percent of its value.
In 2015, as the NASDAQ reached its old peak, there was much less celebration. In fact, it raised many questions. Is the market value too high? Is the current bull market too old? Is the economy strong enough to continue?
While some market measurements resemble the past, the foundation looks better now. Corporate profits are three times larger than they were when the NASDAQ first reached 5,000. Then, around 14 percent had profits over $50 million. Now, around 78 percent have surpassed that benchmark.
In 1999, less than 15 percent of companies going public even made a profit. Now, the market is largely dominated by more stable companies like Apple, which made over $44 billion in profit in one year.
Then, the average technology company had been in business only four years. Now, the average for these companies is closer to 13 years.
Bull markets don't die of old age. The current bull market did turn six years old this month, which for bull markets is above average in age. In comparison, by January 2000 that bull market was over 9 years old. A major change will likely need a catalyst.
The U.S. economy is strong and getting stronger. In the last two years, oil production is up 3 percent globally, but up over 20 percent in the United States. This is pushing down gas prices and according to Bloomberg, a 10 cent drop in gas prices saves U.S. consumers roughly $1 billion. This is boosting confidence, spending, and savings in our country.
The coming year is likely to have its hiccups as investor attitudes shift suddenly and often. This emotional volatility will show up in the numbers as well.
For example, the Dow crossed the psychological level of 10,000 for the first time in 1999. It crossed that level 33 times before what may have been the last time in 2010. The NASDAQ may likewise revisit its historic breakthrough many more times.
Just remember, if you stay invested in a well-diversified portfolio, you should be less affected by the wild roller coasters, especially those focused in one sector like technology or energy.
A diversified portfolio also should perform better over the years. In fact, if you stuck with your well-diversified strategy you probably didn't have to wait 15 years to get back to old levels. Your diversified portfolio has probably had better returns and reached numerous highs over the last 15 years.
This brings me back to fatbrain.com—a quick search on the Web produced no results for this once hot company!
(1) Michael Cooper, Orlin Dimitrov, and Raghavendra Rau, "A Rose.com By Any Other Name," Journal of Finance, Dec 2001.
(2) Nick Wingfield, "It Can Become a Pain to Shift Your Name," Wall Street Journal, March 29, 1999.
This is not a recommendation to purchase any type of investment. Investing involves risk, including potential loss of principal. One cannot invest directly in an index like the NASDAQ. Past performance does not guarantee future results. The opinions and forecasts expressed are those of the author and may not actually come to pass. This information is subject to change at any time, based on market and other conditions, and should not be construed as a recommendation of any specific security or investment plan. SFS is not affiliated with any companies mentioned above.