In January 2008, stock markets were near all-time highs, U.S. unemployment was at just 5 percent, and George W. Bush was about to sign the Economic Stimulus Act, which provided tax rebates for Americans and tax breaks for businesses. Americans were unaware that the "Great Recession" had already begun (National Bureau of Economic Research).
The consequences of excessive debt began to slowly spread across corporate America. Several companies were on the brink of failure before being saved, including Bear Stearns (March 2008), Countrywide Financial (July 2008), Freddie Mac (September 2008), and Fannie Mae (September 2008). Each of these was saved by unpopular government intervention.
Then came Lehman Brothers. It was "too big to fail," and yet it did. At 1:45 AM on September 15, 2008, Lehman Brothers filed for bankruptcy protection—the largest and most complex bankruptcy in American history. It had over $619 billion in loans it could not repay and it marked a tipping point: a moment when investors around the world woke up to reality.
There was too much debt, especially American mortgage debt. In 2008, over 800,000 families lost their homes to foreclosure.1 In 2009, there were around 2.5 million.2 Unemployment doubled to a rate of 10 percent.3
The cost of recovery weighed on the government as it shifted the debt from overburdened Americans to the U.S. deficit (Now over $21 trillion).
The Federal Reserve lowered its rates to zero and kept them there for seven years. When that was not enough, it purchased $4.5 trillion dollars of debt—essentially injecting the American economy with money. It seems to have worked by many measurements.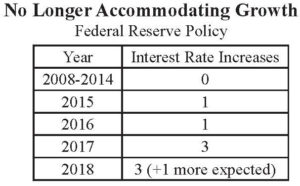 As the economic recovery firmed, the Federal Reserve began to raise rates. At first, it was cautious. Now, it plans to keep going higher at regular intervals. This change may be an important shift.
One day in the future there will be another recession, but it will be different than the Great Recession.
A lot has changed in the last 10 years. Americans have less mortgage debt. The government has much more. While the housing market is strong, it does not seem to be as inflated as 2008.
For now, move forward with optimism and confidence, but don't forget the lessons of the past. The risk of another economic downturn is real. Whether it comes in 1 year or 10 years, your personal preparation will be valuable.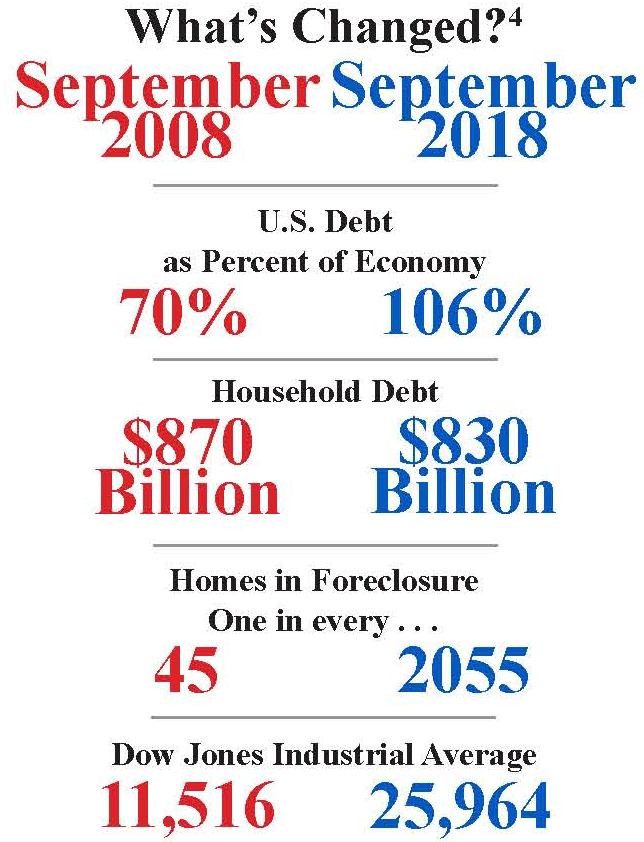 1. "Foreclosures up a Record 81% in 2008," CNN Money
2. "Great Recession Timeline," History.com
3. Federal Reserve Bank of St. Louis
4. "Looking Back at Lehman's Demise," Wealth Management