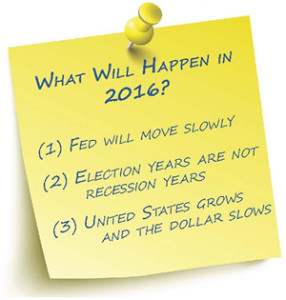 (1) Historically, when rates rise they rise sharply, but "this time will be different." This phrase raises a red flag. However, I see no need for the Federal Reserve to increase rates quickly. Our economy is growing slowly and inflation is near zero.
Oil and food are unlikely to keep dropping in 2016 like they did in 2015. So, inflation may rise. (Without food and energy inflation is currently 2 percent.)
The Fed stated it may raise rates 4 times this year, but I am not convinced it will do that many.
Normally, rate hikes would be negative for bonds, but U.S. bonds are still paying attractive dividends compared to others overseas.
(2) Election years are not recession years. The economy will expand as the recovery in the United States enters its 8th year. The next slowdown is coming and no one knows when. However, I don't see convincing data for its arrival in 2016.
Election years usually start positive, slow down in the summer, and then rally in autumn–similar to most years. However, the rally in the fall does not typically begin after election day like many investors believe. It usually begins before the uncertainty is over–catching many off guard that are waiting. The average for a presidential election year is 9 percent.
(3) United States grows and the dollar slows. Global diversification should help investors in 2016, but the United States will continue to be a financial leader. Global returns will hinge on the U.S. dollar.
Since July 2014, our dollar has risen in value against every major currency around the globe! It gained 20 percent versus the euro and 54 percent versus the Russian ruble!
Why the big move? In all the world, our economy is one of the best and we are the only ones raising rates. Both of these make our dollar more attractive to global investors.
With so many countries lowering rates to stimulate growth, it is possible their economies will strengthen and the dollar's rise will slow. Overall, this would be good news. It would likely help those that have diversified globally.

Does 2015 offer any clues as to what 2016 will bring? In 2015, the S&P 500 finished within 1 percent of where it started. This has only happened in 4 previous years (1947, 1948, 1978, 2011). What happened following those respective years? In 3 out of 4, the market was up more than 10 percent. The outlier was 1947. It was followed by another low return year and then came the double digit. Of course, there are no guarantees.
History does firmly support the value of diversification and investing over the long run.
*Research by SFS. Data from Federal Reserve Bank of St. Louis. Investing involves risk, including potential loss of principal. The S&P 500, S&P 600, and Dow Jones Global are indexes considered to represent major areas of stock markets. One cannot invest directly in an index. Diversification does not guarantee positive results. Past performance does not guarantee future results. The opinions and forecasts expressed are those of the author and may not actually come to pass. This information is subject to change at any time, based upon changing conditions. This is not a recommendation to purchase any type of investment.