What's happening to the college experience in America? It's changing. Not because of the campus environment, but rather because of the financial burden that faces today's students.
The cost of obtaining a college degree continues to grow at a rapid pace. So, does college still pay off? The answer is yes! However, the path taken to obtain a degree has changed from the traditional route.
Students are getting savvy about spending more for their degree. Reducing costs is a major concern. As a result, many high school graduates are starting their college experience at the local community college. They receive the same level of basic education at a fraction of the cost compared to a private institution. Once the basics are covered, they transfer to their college of choice.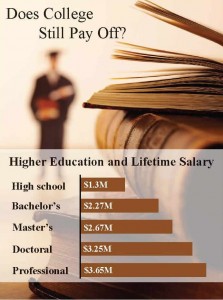 Why pay more to go out of state or to attend an Ivy League? In-state colleges offer a wide variety of academic majors and activities to create a great campus experience. The in-state tuition advantage makes going to these colleges a great investment. In addition, cost conscious students are willing to live at home while going to college. This way they can save on room and board as well as the cost of food.
Technology has had a major impact on college education—not only in the classroom but also as an educational avenue. Some students are opting to take college courses online. Recorded lectures and study materials permit them to attend class at their convenience. This flexibility offers students the opportunity to work and attend college at the same time. For many, technology makes what used to seem impossible, possible.
Many have given up on the traditional college education and are looking for a trade specific education, something that requires less time, a lower financial outlay, and the opportunity to get started in a career while completing required courses.
It's safe to say that when it comes to education, that students are making the rules based on their individual needs and financial resources.
The focus on various degrees is also changing. Choosing a degree has a significant impact on one's lifetime earning ability. Those obtaining engineering degrees have the potential to secure higher paying jobs throughout their lifetime than those with literature or education degrees. This being said, it's important to note that just having a four-year degree, regardless of the field of study, gives students an upper hand when it comes to lifetime earnings. Many employers are not fixated on a specific degree. They believe they can train an employee in the areas they need. However, employers view a college degree as a definite advantage. Typically, these employees know how to manage their time and resources, research information, and solve problems, making them valuable employees.
Regardless of the form of education, the payoff in lifetime earning ability is huge and increasing.