Top notch athletes have something in common. Each possesses a strong commitment to endure to the end. Marathon runners spend countless hours working towards a single goal–completing the 26.2 mile run at marathon pace. When accomplished, many begin preparing for the next marathon.
Richard J. Carling personifies a top notch marathon competitor. He began running at age 39, for health reasons, and at age 75 he's still going strong.  He runs four marathons every year.
In October, Richard will be running in the St. George Marathon, his 145th marathon. I asked Richard how he got started. He said, "Before I started running, I didn't think I needed a plan to stay healthy, I thought I was fine." After his health scare he was told he needed to do something and running was recommended. Now he has a plan and a strategy, which he follows to stay healthy and compete in marathons.
A runner's journey begins with an assessment. Fitness level, personal needs, and race terrain become the basis on which their training program is built. If these areas are not addressed, the runner will have little chance of reaching the goal. For instance, someone with a physical ailment must take precautions to protect themselves from injury. Someone who will be competing at a high elevation, like the Colorado Rockies, must do more than train at sea level. The key is that each training plan is very personalized to the athlete and the goal.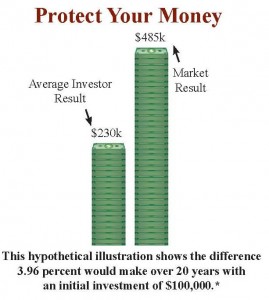 Planning for retirement begins much the same way. First you must determine what it is you want to accomplish. Is your desire to retire at a certain age, or is it more important to maintain a certain standard of living throughout retirement? Once you've made your decisions, there must be a strong commitment to reach those goals.
Self-assessment is important when building your plan. If this step is missed, you may find that you are not able to stick to your long-term plan. Think about this, if you invest in something with considerable volatility when emotionally you can tolerate little risk, you are more likely to abandon your plan. On the other hand, you will be disappointed and fall short of your goal if you were expecting market returns over many years but were invested too conservatively.
If you want to run for a lifetime, as Richard has, he says, "You must stay within your limits. This will help keep you healthy and prevent injuries." Consistency is important. Richard runs 8 miles each weekday and tries to get 20 miles in on Saturday. He says, "If you over train or push yourself too hard, you will have to make adjustments that can set you back in your training."
Marathon runners, in general, train by running long distances to increase stamina and endurance. They are not running sprints to get ready for the race, nor will they be sprinting during the race. The distance of each run is carefully planned out so that they peak on the day of the marathon.
This same practice is applied to retirement planning. Your plan must be well thought out. What types of investments will best help you reach your goals? My guess is that there will be some investments that are more conservative to provide for your needs as you begin retirement. From there the investment risk may increase based on when the assets will be converted into income. While this may seem obvious, many miss this point entirely. Their plan becomes fluid and investments are made based on the heat of the moment; the well thought out plan is abandoned. Market timing becomes the basis of the investment plan.
Dalbar Inc. released a study on March 26, 2013, regarding investor behavior. The study reveals how emotional, short-term decisions have stunted the performance of equity investors.  In a nutshell, the study shows that over the past 20 years, investors have under performed the market by an average of 3.96 percent per year. When compounded over 20 years, the difference becomes a chasm separating you from your dreams.
The gap in returns can be attributed to bad investment habits. The most common error is chasing performance by purchasing the hottest investments. In other words, investors are often their own Achilles heel.
Endurance, both physical and mental, is essential to a marathon runner. Without it an athlete would fall victim to the overwhelming urge to quit. During the 26.2 miles, the runner's courage and determination are tested. When asked how he's able to run such long distances, Richard says, "Everyone hits a wall at around 20 miles. At that point it's all mental. You don't worry about the past or the future. You stick with your plan. If you get excited and try to push too hard you'll crash." In order to endure, the will must remain stronger than the body.
Along the path to retirement there will be many obstacles. The endurance test will be a matter of commitment and will. If your plan is well thought out, market volatility in the short-term should have little impact on the long-term results of the plan.
If you are committed to following your plan and have the will to succeed, you can protect yourself from financial elements that arise. If you understand that taking a large distribution at the wrong time will jeopardize your plan, you will be less likely to make bad loans to others.
After completing the St. George Marathon, Richard looks forward to running the Honolulu Marathon and then the Boston Marathon where he is 10th overall for running the most consecutive marathons. While he is always focused on the race at hand, when that race is completed, he is looking forward and mapping out a plan for his next race. Go Richard!
Getting to retirement is just one step in the long-term retirement plan. Making sure that your assets allow you to continue your lifestyle throughout your retirement years requires additional sophisticated planning. There will be a whole new set of financial elements, and adjustments may be necessary for this part of the race.
Your plan to access your income must address a different set of personal needs. Those that will require continued commitment in an effort to reach the ultimate goal– financial security in retirement.
*The S&P 500 is an index often used to represent the market. One cannot invest directly in an index. Investing involves risk, including the possible loss of principal. Past performance does not guarantee future results. Data provided by Dalbar Inc.