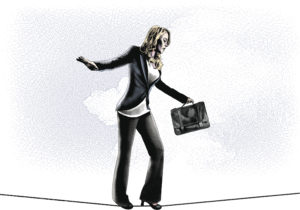 For women, it's sometimes hard to balance the nurturing desire to take care of someone else when in reality, we may need to take care of ourselves. This is often true when facing life transitions. It's at these times when we have to put ourselves first, at least, until we become comfortable with the change.
Throughout life, we face events that result in transition. Some are planned and some are unexpected. How we prepare for these events can help reduce some of the financial and emotional stress.
Over the next few Money Moxie® issues, we will discuss some important life transitions and provide guidance to help smooth out the bumps. In this issue, we will focus on women who have left the workforce and are now ready to jump back in.
Reentering the workforce
Women often follow a different path than men when it comes to a career. Many get a degree or special training and begin a career only to leave the workforce to raise a family or because their income is not necessary to the family's financial situation.
While you have been off the career path, things have changed. Yes, remember that old fax machine? Well, for most companies it's in the corner collecting dust. The business world has been moving forward at a breakneck pace; even those of us living in it day-to-day have a difficult time keeping up.
Software and websites you may have used just a few years ago have been updated and changed. Passwords are your new best (or worst) friend–and you need a separate one for each site. These should be changed every 90 days.
In order for you to reach your marketable potential, you are going to need to brush up on your skills. Find out what programs are in demand for the position you are seeking and learn more about them. Webinars and online tools make this relatively easy.
Getting paid what you are worth
Don't sell yourself short. Make sure you are getting paid what you are worth. Check out websites that show average salary ranges or pay scales in your geographical location for your occupation. Know before you enter an interview how much you can expect to be compensated. Maybe it's time to hone your negotiation skills.
Sing your own praises. Be prepared to articulate your strengths and specific achievements. Express the unique skills and qualities you bring to the table. Avoid the temptation to accept the first salary or pay offered–be prepared to counteroffer.
Be sure to consider other tangible and intangible benefits such as: bonuses, career opportunities, flexible schedule, and supportive culture.
Maximize your benefits
As a woman who has been out of the workforce, you may have some catching up to do when it comes to retirement savings. Employees are often told to get the maximum company match, which is good. Think bigger!
While the match is a great benefit, that alone may not be enough for you to reach your financial goals and live comfortably in your retirement years. Seek professional advice regarding your future retirement picture and invest with purpose and an achievable goal.
Talk to one of our wealth advisors; we can provide guidance regarding your personal situation and the options available to you.