The recent outbreak of the "WannaCry" ransomware confirms the responsibility each of us has to protect our personal information. In today's world we use technology for photos, communication, transactions, and learning. Unfortunately, criminals are getting more sophisticated in their efforts to defraud us.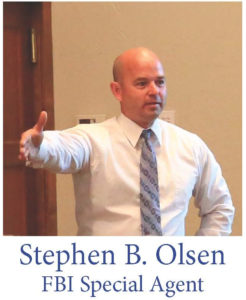 Stephen Olsen, FBI Special Agent, warned us to be vigilant in the use of electronic devices and gave us many tips to follow:
• Back up your data regularly on another drive. Then unplug the drive. If your backup drive is plugged in then it will be compromised along with your computer.
• Opening an email should be safe. However, links and attachments may not be. Its links may lead you to a nefarious site. Instead of clicking the link, go directly to the correct company website in your internet browser.
• If you were not expecting an email from a friend or associate, contact the sender to verify before opening any links or attachments. This may seem like overkill, but criminals are very adept at enticing unsuspecting victims to open links and attachments. One click could give them access to all your personal information. When in doubt, delete the email.
• Be diligent in creating and changing your passwords. They should be a minimum of eight characters. Use combinations of upper and lower case letters, numbers, and symbols. Use different passwords for your accounts. If you store the passwords on your computer, consider using a password management program instead.
• If you become the victim of a ransomware attack, do not pay the ransom. Criminals often don't release your computer files after they receive your money and there is little recourse to get your money back.
Protect your personal information by keeping your computer software, including security software, current. Apply updates, upgrades, and patches when they are made available by the software vendor. Please call us with any questions.