It may turn out to be a typical election year. I expect stocks to be up in 2020, but in the single digits—much less than in 2019. Investors dislike uncertainty, and 2020 will be filled with plenty of political unknowns. Despite some extra ups and downs, election years tend to be positive for stocks. Hang in there.
A lot of Republicans could have missed out from 2009 to 2016. Similarly, Democrats would have missed the 2017-2020 markets. The rule for election volatility is that it comes sooner than most investors expect. Most summers have a bit of a slowdown. In election years, that drop usually hits in spring.
The classic October drop is typical even in election years, but don't get caught saying, "I'll invest when the election is over." The market usually begins to climb a couple of weeks before the final vote.
Some rotation in the markets may develop as we learn who the candidates will be. Still, the most likely outcome is gridlock in Washington, with the Republicans staying in control of the Senate and the House controlled by Democrats. Regardless of your political opinions, gridlock is usually good for stocks because large companies plan 10+ years ahead of time and prefer a predictable business environment.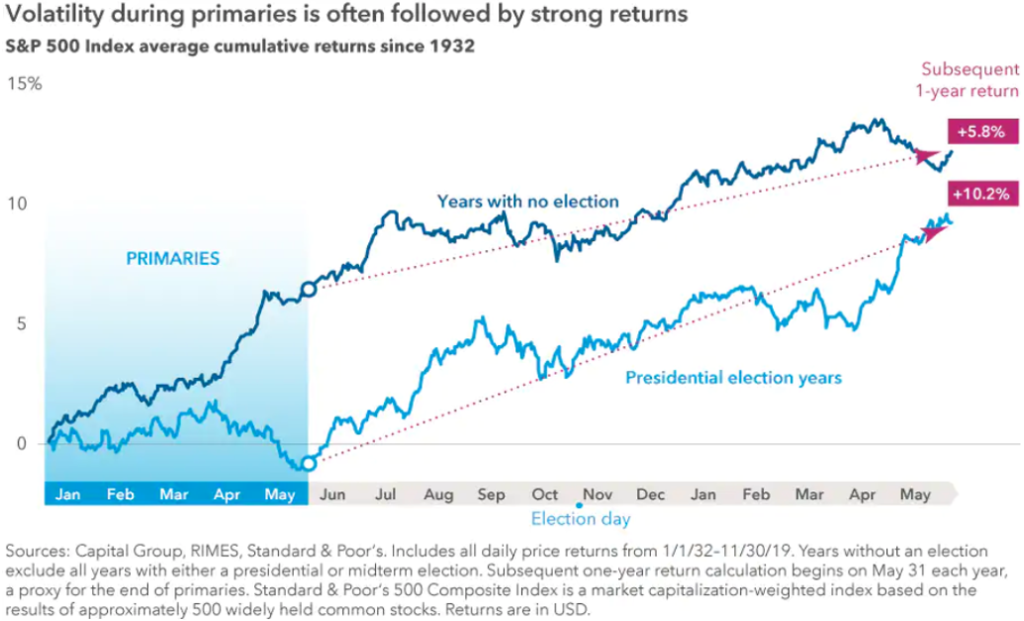 *Research by SFS. Data from the Federal Reserve Bank of St. Louis. Investing involves risk, including the potential loss of principal. The S&P 500 index is widely considered to represent the overall U.S. stock market. One cannot invest directly in an index. Diversification does not guarantee positive results. Past performance does not guarantee future results. The opinions and forecasts expressed are those of the author and may not actually come to pass. This information is subject to change at any time, based upon changing conditions. This is not a recommendation to purchase any type of investment.