Is this as good as the U.S. economy is going to get? This is the question investors have been asking as storm clouds have settled over the stock market. During all this commotion, a silver lining can be seen with a strategy that may be helpful.
The paradigm shift for stocks, which began in October, is reminiscent of a change in early 2000 when a positive run for technology stocks abruptly ended. Unnoticed by some in 2000, the economy was still growing and a rotation of leadership in the stock market presented investors with new opportunities. This is where diversification can help.
Take a look at the graphic below. Diversification lost when the market lost and made less when the market gained. Despite these disappointing facts, the diversified portfolio would have made more money!
Why does diversification make a difference?
Limiting your losses helps.
No one knows when the market will rise or fall, so any strategy attempting to capture the up and avoid the down is unlikely to do well.
While there is no way to accurately predict the future of any one company, the market tends to rise over long periods of time – making losses temporary for those who stay diversified and invested.
As the storms arise, think of diversification as your umbrella. You may still get a little wet, but it will help. Your long-term perspective and optimism will help you hang on until the sun shines – and it will shine again.
The new year will continue to bring many opportunities for investors, especially with positive economic growth. There are no guarantees, but the current forecast calls for a 2.5 percent increase.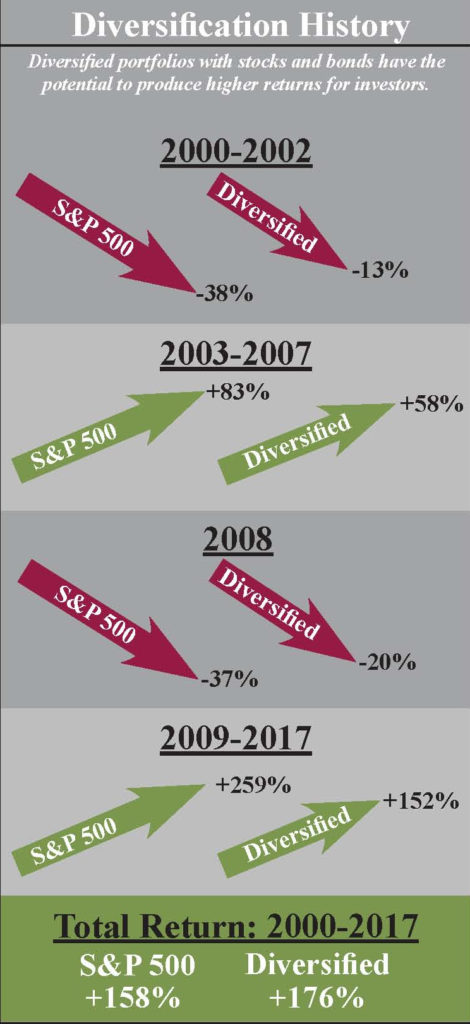 *Diversification History data provided by Blackrock. Diversified portfolio consists of 60 percent stocks and 40 percent bonds. The S&P 500 is often used to represent the U.S. stock market. One cannot invest directly in an index. Past performance does not guarantee future results.