If we have learned anything from the last 90 days, it is to expect the unexpected. As we watched the pandemic unfold, basic necessities such as hand sanitizer, cleaning supplies, canned goods, meat, and even toilet paper became high demand commodities, creating an uncomfortable situation for many of us. Having excess on hand helped ease the pain when store shelves were empty.
The same can be said for finances. What if the next crisis hits financially – will you have the cash supply needed to stay afloat? Preparing for a financial emergency is essential. Here are some things to consider.
A Federal Reserve report reveals many Americans could not cover an unexpected expense of $400. Those who carry a credit card balance, or do not have a credit card, are unlikely to have money set aside and are most at risk.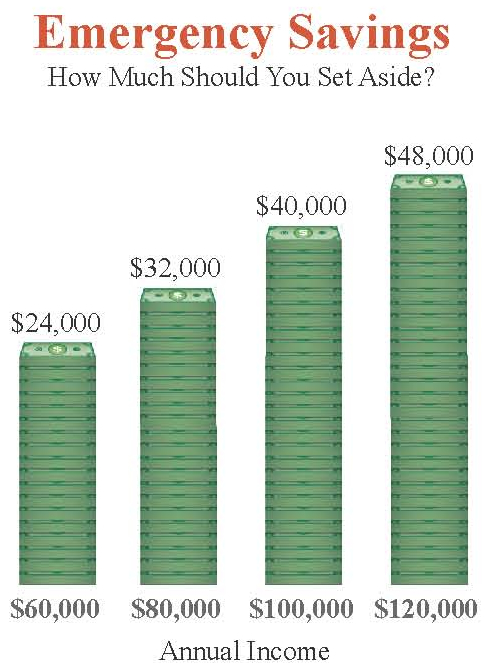 An emergency savings account will help soften the blow if your paycheck stops for a period of time. We recommend saving enough to cover between 3 and 6 months of income, less taxes, and retirement plan deductions.
The next decision is where to put the money you have saved. You can use a single account or a combination of accounts. The important thing is to keep the money liquid and readily accessible.
Options For Emergency Savings
1: Savings Account
2: Money Market
3: Certificate of Deposit (CD)
4: Low-Risk Investment
5: Combination of 1-4 above
Source for all data: Federal Reserve Bank of St. Louis. Past performance does not guarantee future results. Diversification does not guarantee positive results. CD's are FDIC insured up to $250,000 and offer a fixed rate of return. They do not necessarily protect against a rising cost of living. The FDIC insurance on CD's applies in the case of bank insolvency, but does not protect market value. Other investments are not insured and their principal and yield may fluctuate with market conditions.