Entering 2017, I was more optimistic about the potential growth in stocks. In fact, my expectations were higher than 13 of 15 major investment companies. This optimism became a basis for staying invested throughout the year whether the market went up or down. The results were very positive.
I also assumed that at some point in 2017 we would wake up to some major down days. This never happened. The market just continued to climb all year long.
The S&P 500 (with dividends) rose every month last year for the first time ever! A positive return in January 2018 would bring the streak to 15 months in a row. Second place goes to a streak of 10 months stretching from December 1994 to September 1995.
These are powerful trends, considering the probability of any month being positive is around 60 percent. Strong momentum like this typically continues even after the streak is broken.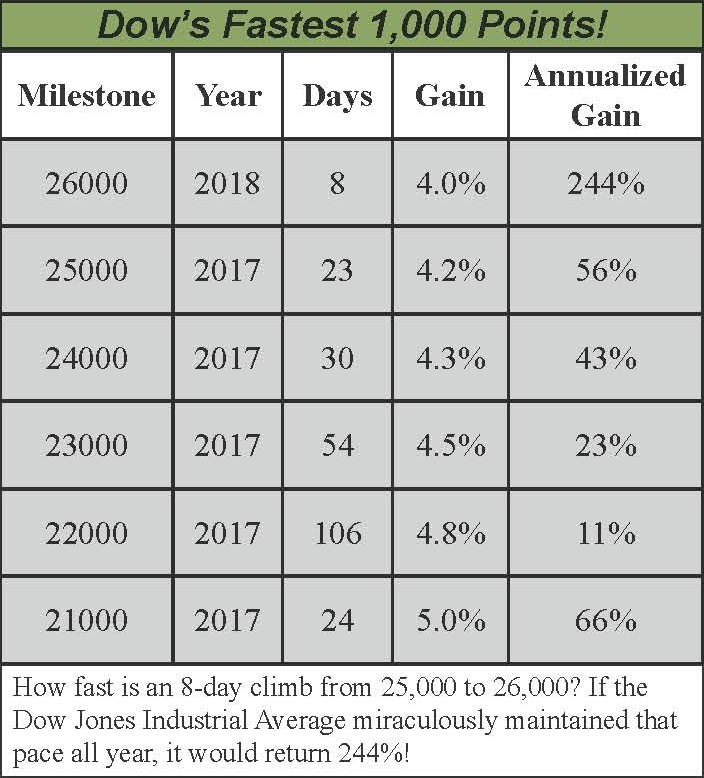 A second record was set that began in the final days of December. The Dow Jones Industrial Average had its quickest 1,000 point gain ever!
For three consecutive years I have accurately predicted the major actions of the Federal Reserve. I wrote: "This year, I am going to try something new: accepting the Federal Reserve's forecast that it will raise rates 3 times in 2017." That is exactly what happened.
I believe that keeping an eye on the Fed this year will be even more important than it was in 2017. You can see my analysis for 2018 here.
*Research by SFS. Investing involves risk, including potential loss of principal. Dow and S&P 500 indexes are widely considered to represent the overall stock market. One cannot invest directly in an index. Diversification does not guarantee positive results. Past performance does not guarantee future results. The opinions and forecasts expressed are those of the author and may not actually come to pass. This information is subject to change at any time, based upon changing conditions. This is not a recommendation to purchase any type of investment.