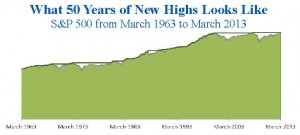 We have all been taught that the way to make money investing is to "buy low and sell high." This makes perfect sense, but it is so much easier said than done. The danger in "buy low and sell high" is that it encourages investors to take active risk that may be contrary to their long-term goals. Most investors would do better following a more patient mantra.
Consider the recent highs in the market. On March 5th, 2013, the Dow index closed at a record level: 14,253. The S&P 500 index hit its high on March 28th, 2013, with a close at 1,569. These highs are only exciting to those participating in the growth of the market.
Some may see new highs as a signal to increase risk, others as a reason to decrease it. Keeping in mind that past performance does not guarantee future results, here are some answers to questions asked by the media when such events occur.
Do the new highs matter?
Yes! How else will investors make money? Making new highs is exactly what the market is supposed to do. Sure it doesn't happen every day or even every year. It took these stock indexes 5½ years to reach their previous highs set on October 9, 2007.
Over the last 50 years, the S&P 500 hit new highs 714 times. It falls frequently, but the long-term trend is up and that is the way it should be.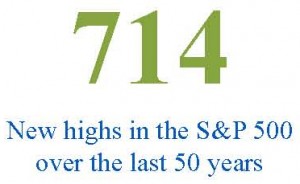 Can we say that what goes up must come down?
There is always a reason for a rising market, and so a new high is often followed by more highs. The positive momentum and good news often have continued. The average return following a new high is positive for 1, 2, 3, 6, and even 12 months following the high.
Is this time different?
The current bull market is celebrating a birthday this month. (The current bull market began on March 9th, 2009.) It is turning four, which is a long time for a bull to run on Wall Street without interruption.
What could stop the bull?
Consumers are once again financing spending through debt. Their savings have fallen to just 2.6 percent of their income. (See cover story for details.)
Low savings equate to high spending. This is only good over short periods of time. A market rise that goes with it cannot be sustained forever. Eventually, consumers will reach a limit on how much they can borrow and spend.
Human nature is also a constant in the investment world, and it often leads to an over-inflated market as investors become overly optimistic. If it leads to inflation, the Federal Reserve may choose to send interest rates higher on debt.
Are there signs of overheating?
Consumer spending trends may be headed in the wrong direction right now, but they seem far from overextended. In fact, household debt is at historically good levels—the best in over 25 years.
Inflation could become a major concern, but it isn't right now. North America is on its way to energy independence, possibly by 2020. Take a look at the price of natural gas on your winter heating bills. Prices have been low for energy.
Everyone is beginning to love stocks again. This is a good sign and a reason for caution. Just remember, patience is a rare virtue in the market, and if you have it then you should expect to do better than average. Of course, there are no guarantees.