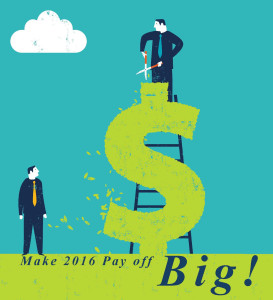 Social Security – Beginning April 30, 2016, the "File and Suspend" and "lump sum payment of suspended benefits" will no longer be available. If you are married, age 66 or older, and have not started taking Social Security, now may be the time to talk about maximizing your benefits before time runs out.
Currently a filer who is at or past full retirement age can file for individual benefits but suspend receiving them, allowing a spouse or dependent to collect based on the filer's record. In doing this, the filer can capture the delayed benefit increases of 8 percent each year that benefits are delayed, beginning at full retirement age and available up to age 70.
After April 30, 2016, in order for a spouse or dependent to collect benefits based on the filer's record, the filer must begin to collect his or her own benefits, thus forgoing the delay benefit increases. Furthermore, filers who have suspended benefits will no longer have the option to request a lump-sum payment of all suspended benefits. This strategy can be complex. We suggest that you start the process immediately to take advantage of this opportunity before time runs out.
Make up for lost time – Boost your retirement contributions. Living comfortably in retirement is largely determined by what you are willing to save today. Make the years before you retire really count by increasing your 401(k) or other retirement account contributions. This chart to the right illustrates the difference that setting aside 6, 10, or 15 percent of income can make. Even better, maximize your contributions, and make a significant difference.
The unseen result is what these contributions can do to supplement income at retirement. Using a 4 percent distribution rate, the difference in this illustration is $1,120 each month.
Decide today to make living comfortably in retirement a priority.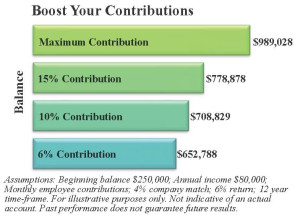 Financial diary – This is not a typical diary. Keeping track of your spending goals and checking in on your finances regularly will keep you focused on your real financial goals.
Use the diary to list items you want or need and keep track of spending, investing, and savings. This will help you prioritize your spending. The result–focused spending and saving. Monitoring your diary will give you the emotional boost to keep you on track. When you see that you've accomplished a goal, you feel satisfied with your financial decisions. If you see that you are getting off track, this will be the silent kick to get you back on track.
Keeping a financial diary will help prevent emotional spending–a compulsion to buy something right now. Retailers are excellent at getting us to buy things we didn't know we needed by simply placing an item strategically in view and setting the mood with a little shopping music. Keeping track of your spending can help you outsmart the retailers.
Looking at the financial diary weekly, even if you think nothing has changed, can help keep you on track and out of trouble.