Leaving a legacy is wonderful, but have you considered living a legacy?
Up to this point in your life, your time has been spent working hard, increasing your knowledge, honing your skills, and cultivating connections. Many experiences – some good, some not so good – have shaped the person you have become. As you head into the next stage of your life, what will happen to the institutional knowledge you have gained? You can significantly benefit and enhance the lives and experiences of others by sharing your knowledge and giving your time.
Facing the next phase of life can be perplexing as you decide how to spend your time. Recreation is great in small doses, but can become tedious when practiced every day. In recent years a trend has developed presenting opportunities for you to make a difference. It's time for your encore!
Encore careers result from many different situations. Some begin at retirement but more often there are other pressing factors that push us to make a personal change. Sometimes it's just being open to new ideas and opportunities.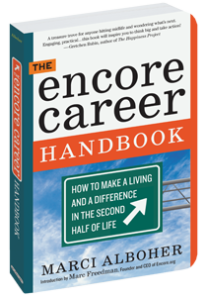 An opportunity is presented.
Rachel Pike is passionate about the foundation she serves. She is the Executive Director of Reliance Children's Foundation. Just over three years ago Rachel was approached with an opportunity to start and head a new non-profit organization. Although she had no previous experience in foundation work, her skills teaching school and college, as well as writing curriculum, were put to good use.
Reliance Children's Foundation helps the families of children with critical and terminal illnesses. The foundation provides support to families such as: paying rent, providing bus passes or gas cards so families can get to and from the hospital, and other necessities that are often overlooked but greatly needed. These services allow the families to focus their attention on their children.
Rachel says that through her experience she has learned new skills, become more confident in her own abilities, and moved outside her comfort zone. She feels privileged to experience first-hand the strength, courage, and resilience of people facing serious, sometimes devastating circumstances.
She has also witnessed the willingness of others to make a difference in the world. Rachel is the foundation's only employee. Flexibility allows her to work from home and be available to her three teenage children. All other services and funds of the foundation are received from wonderful people who are willing to share their time, expertise, and knowledge to make someone else's life a little better. Through her experience she has made lifelong connections and friends.
Rachel recommends that if you are not sure what to do or where to start, just jump in. Volunteer your time at a local charity or discover something you are passionate about and find a way to make a difference. There is no limit to the need around us – in our community or elsewhere in the world.
We see many wonderful people like Rachel making a difference. Your encore situation will be unique to you and your passion and your stage of life.
Follow your passion and make money.
Are you itching to make a change? A driving desire to do what you've always wanted may push you towards an encore career. Your chosen career has permitted you to provide for your family and build wealth for the future but also requires you to defer your dream. Regardless of your age, young or old, now may be the time to follow that dream. Learn everything you can about your passion and find a way to be compensated for doing what you've always wanted. Love what you do, increase your career satisfaction, and live a legacy.
Second acts for a better world.
Maybe you're ready to throw in the towel. If you've saved enough to live comfortably, you may be ready to give back without financial gain. Giving your time and talent voluntarily to improve the lives of others creates a legacy that will go on for generations.
Start a new social venture or join with others to have a greater impact or tackle larger projects. Perhaps an experience of someone close to you is spurring you to become active in a cause. There are many worthy causes that need your time and your talent. Seek them out,
find out what you can do. Whether helping out on the front line or working hard in the background, the
choice is yours.
Increase your flexibility and accomplish more.
Perhaps you enjoy your day career but want to do more. A flexible career allows you to get things done at work and then spend your excess time focusing on other activities. Sharing your passion may be as simple as teaching boys how to fish. The idea doesn't have to be grand to make a difference. Giving of your time is living a legacy. Match your skills and interest and find a way to make a difference in society; today, tomorrow, for generations to come.
Sounds a little overwhelming, but it doesn't have to be. There are many tools and resources to guide you through the process of beginning an encore career.
The Encore Career Handbook by Marci Alboher is one good resource. In her book Marci walks you through the decisions and steps you will face as you enter this stage of your life. You may not feel that you're at that stepping off point. However, much preparation is needed before a change can be made. Now is a great time to begin thinking of the opportunities. Find happiness by helping others.
If you would like to explore your encore possibilities, contact our office to attend an Encore workshop or schedule an appointment to speak with one of our wealth consultants 800-748-4788.