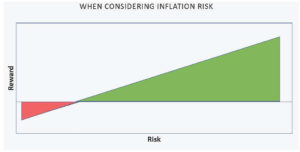 Are your conservative investments at risk? What about the cash you are keeping in your savings account or in the safe downstairs? "No," you might be thinking, "I keep cash because it's safe." If these are your thoughts, I have some bad news. In an effort to avoid risk, you could be taking on a different kind of risk. I'm talking about inflation risk and it's a silent killer that preys on the innocent.
Inflation can cause damage too small to be seen until it's too large to be avoided. And the more conservative the investment, the greater the risk. "But wait," you might be saying, "I thought conservative investments were safer and risk increased only as I invested more aggressively." That is generally true with market risk, but it does change when considering inflation risk.
According to inflationdata.com, inflation has historically averaged just over 3%. This means on average a dollar will buy 3% less than it did 12 months earlier. A product that costs $100 dollars today will cost over $2,000 dollars 100 years from now. When my father was young, a candy bar cost 5 cents. I remember paying 50 cents as a child. Today, a candy bar is $1.25. That's inflation.
If our money is not earning at least the rate of annual inflation, our purchasing power is decreasing. My father could've bought almost 20 candy bars with a dollar when he was young. With the same dollar, a child today couldn't even buy one.
As you can see in the Risk vs. Reward graph I've provided, the more aggressive the investment, the greater the potential should be for gain, especially over long periods of time. However, I want to call your attention to the left side of the graph, the conservative side. This side of the graph shows little to no risk being taken and yet there is a loss. That is the risk of being too conservative. This loss isn't a loss of principal, but a loss of purchasing power.
Keeping up with inflation should be an investor's number one goal, and some conservative investments struggle to do that. Conservative investments do serve an important purpose and are a great choice for short term goals and emergency funds. But if your goal is long-term, adding a little more risk may actually reduce inflation risk. Investing in a diversified portfolio that includes stock market and bond market risk may help protect you from inflation risk.
A real area of concern for inflation risk is in retirement. If these investors don't keep up with inflation, they could risk living longer than their money. At a 3.5% inflation rate, the cost of goods will double every 20 years. This means an 85 year-old couple who keep their investments in cash will have half the purchasing power they did when they retired at 65. Although the principal amount would be the same, it would be like a 50% loss. That is a risk I hate to see investors take.
For more information on inflation risk, market risk, and the risks taken in your current portfolio, please call us and schedule an appointment. We would love to answer any questions you have and help you to reduce unnecessary risk.