Confirmation Bias: The tendency to only accept the facts that support what we already believe.
By virtually every measurement, the U.S. economy is growing–and so it is in just about every other country in the world! That means that even though stock prices are near all-time highs, they are also supported by real economic growth.
The question is, "How long can the stock market continue to grow before cracks begin to form?" The answer: Small cracks are already appearing and most people don't see them, yet.
How could corporations disappoint in such a good economy? No way . . . unless expectations are too high and investors realize this 3, 6, or 12 months from now.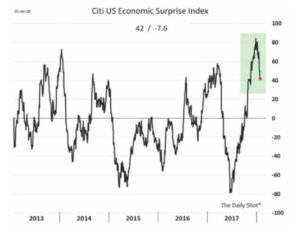 That's exactly what this graph is showing: an inability to exceed high expectations. And the market in 2018 is more likely to be affected by expectations than by economics. After all, the growth that everyone expects is already priced into the market. The bar has been set high for 2018!
The Federal Reserve has a new chairman, Jerome Powell, and he seems determined to get interest rates back to more normal levels. This makes borrowing money more expensive and could, at some point, have a negative impact on stocks.
Consumers could turn the tide in a negative way! Consumers represent 69 percent of economic growth. They have been driving growth upward for two years by spending more than they can afford. How long can this continue?
The savings rate, once at 10 percent, is now approaching an all-time low of 2 percent! The risk is not that Americans have overspent, but that they cannot continue to overspend in the next two years like they have in the last two years! How will American consumers continue to lift the American economy when they run out of money?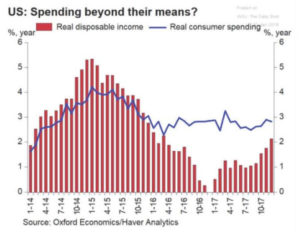 What will be the next crack in the economy? It will probably not be in housing this time. Mortgage debt seems low compared to 10 years ago and there is a shortage of homes around the country.
Any further cracks may be in credit card defaults. That's one area we will be watching.
For now, economic growth looks solid. We will keep an eye on things because we know that investments become over-priced while the data is still positive. What we know is that 2018 is already more interesting than 2017!