At a young age, Erik Wahl was told by an elementary teacher that art "just wasn't his thing." He colored too fast and was not able to stay in the lines. His teacher's assessment is hard to believe, especially when seeing him in action creating art on stage in front of an audience. He is amazingly talented.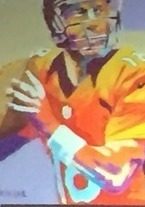 Erik is a well-known graffiti artist, motivational speaker, author, and entrepreneur. While on stage, he inspires his audience to look beyond the limitations they and others have imposed, and search inside for their creative genius. Something that he advocates we all possess in some form.
In his mid-30's, Erik discovered his artistic creativity. With a college education and successful corporate career, Erik was living the American dream. However, the dot.com bubble and subsequent economic downturn brought things to a screeching halt. In Erik's words, "I lost everything: my money, my investments, my security, my identity." He found himself without a job and in financial ruin. As he struggled to gain control of his circumstances, he was told to get away from things for a while and do something to help clear his mind – travel or take up painting. With no money to travel, Erik took up painting and the rest is history.
Erik advocates that we all have creative genius. The challenge is to break out of the box that acts as a ceiling on our potential. Often we think of creativity as art. In reality creativity is following your heart, acting on your convictions, and finding passion in what you daily.
If you were to ask a room full of five-year olds which was a good artist, it's likely all of their hands would shoot up. Asking the same question in a room of adults delivers a much different result. There may be only one brave soul to raise a hand. Over the years, our idea of creative ability becomes skewed and we make unrealistic comparisons. The group of adults are probably comparing themselves to Picasso and believing they fall short. While we may not be Picasso, everyone has some creative talent. It could be that you are a good communicator, or perhaps you think outside the box and find solutions to problems that others had not considered. In both cases, you are using your creative ability.
Applying Erik's philosophy can help inspire us to live life more fully and enjoy greater success. Regardless of the stage of life we are in – just starting out, raising a family, building a career, or crossing the bridge to retirement – using creativity will help make the journey enjoyable and more fulfilling. Too often we think in black and white, left brain or right brain. The truth is there are two sides to our brain and using both delivers a better outcome. Combining mind and heart, logic and emotion, strategy and soul can deliver powerful results.
Erik is a great example of the principles he promotes. He inspires others by opening their minds to possibilities that most have not considered. He helps others find greater fulfillment daily by bringing passion to all they do. He gives back to the community in his unique way. Erik does not sell the art he creates on stage nor can you commission him to create a painting; rather he champions charities by donating his work. At the conference, where we heard Erik speak, he created several paintings while we watched in amazement. This painting of Peyton Manning was given to Securities America to be auctioned for charity. The painting subsequently sold at auction for $5,500 and the proceeds benefited the Juvenile Diabetes Research Foundation.