Dear Financial Partners and Friends!
Leading economic indicators are predictive changes that give us clues about the future direction of the economy. Lagging indicators are after the fact. They confirm what has already happened.
Just as the economy has leading and lagging indicators, so does your personal financial preparedness. Regardless of your age, or alternatively, your personal lifecycle, ask yourself where you are in the following questions.
Do you have a three-to-six-month emergency fund that matches your net income?
Are you free of all debt?
If you were to die suddenly, would your family have enough money to live now and through retirement?
Do you have enough money saved for retirement? (See graph below.)
Are the beneficiaries and contingent beneficiaries on your retirement accounts, life insurance policies, etc., the way you desire?
Have you created will(s) and trust(s) and ensured they are up to date?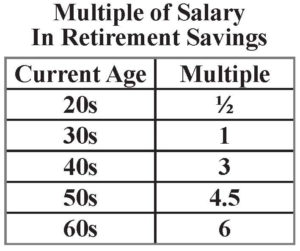 If you answered "Yes," to all of these leading indicators, then you are financially prepared for the future. If you answered "Yes," to most of these, then you are on the right path. If you answered "No," to most of these, then you should take immediate action. Please come and talk with one of our expert wealth managers who have the experience, credentials, and training to get you to and through your retirement years.
So many changes can take place within a year's time, that when it comes to your personal finances, it is better to be safe than sorry. The most important people in your life depend on you. Will they be harmed or helped by your preparation or lack thereof?
Bullish Best Wishes,
Roger M. Smedley, CFP®
CEO