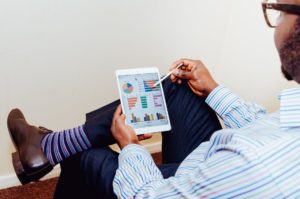 I recently surveyed tech employees to find out how financial advisors can better address their biggest concerns. Here's what they had to say.
Make me believe that my company is a unicorn, but help me save as if it isn't.
Even with the tech boom, only 15 to 20 new companies per year will eventually reach the mark of $100 million in revenue. The good news for Silicon Slopes companies is that the majority of those companies are coming from outside the San Francisco area.i The new 2017 list shows that Utah is home to 4 Unicorns: DOMO, Qualtrics, Pluralsight, and InsideSales.com.ii
Are you working for a unicorn? Many tech employees sink all of their excess cash into stock options. This can create a huge windfall or a major money pit. Britt Hawley from InsideSales.com says that tech employees need financial advisors to, "help them understand, manage, and factor (stock options) into their financial planning." A good financial advisor can help you create a holistic plan that still optimizes your stock option purchases while giving you some balance through your 401k, insurance planning, and other investment planning. Dan Preece from HealthEquity found this to be true when the company he works for went through an IPO; "One of the biggest things for me was having help navigating through stock options, IPOs."
Part of a holistic plan is creating a way for you to reach your goals even if your company doesn't get bought out or go public. There is a lot of value in diversification and multiple income streams. You should still be contributing 10-15% of your salary into your 401(k). If your 401(k) ends up being the smallest piece, then it is still icing on the cake. If your 401(k) is your main retirement, then you will be grateful you chose to save. You don't want to have to delay retirement because you are still hoping that your company will go public.
Help me without taking all of my money
Too many times tech employees seek out good advice only to find a sales person, masquerading as a financial advisor, pushing the "hottest thing since sliced bread." Kayden Holt from Pluralsight put it this way, "Employees need people to help them without taking all of their money." Unfortunately there are a few rotten "advisors" that taint the whole bunch. Be wary if an investment planner is only playing on a one string guitar or sells you something that is too good to be true.
Seek out a holistic advisor, typically a Certified Financial Planner®, that will look at all of your goals and will devise a plan to help you get there. Also make sure the fees they charge are in line with the service provided and that they can prove the value they are providing. Tech employees "like to know in a tangible way how they are benefitting from a financial advisor," stated Mr. Hawley. Good advice does not have to be expensive, but bad advice always costs you dearly, no matter how little you pay for it.iii
Educate me about how to invest.
Tech employees are more savvy than most. "They like to understand the why" behind an advisors investment actions, said Mr. Hawley. Good investment advisors will be able to explain the details of their investing process with its pros and cons. They can explain in concrete ways what they can do for you that you can't do for yourself. If you want to do your own investing, they can help you do it. If you want to have someone else manage your money, they can do that too. Most importantly they will be a teacher. "Just as much as we needed grade school to learn how to read and write," said Mr. Holt, "we need financial advice to learn, grow, and earn."
Give me different ways to access advice.
The world of advice is changing. The old stockbroker model of paying commissions for stock trades is dying. In its place you can find different models: Do it yourself, monthly retainer, or assets managed for a fee.
Technology is changing the landscape and making better advice and trading platforms available to the masses. Many do-it-yourselfers are drinking in the information and trading their own account.
Paying a monthly retainer, like $100 a month, is a newer model. It allows you to call up and ask questions anytime you want. It also helps people start out on the right foot even if they don't have a lot of investable assets. It begs to reason that if you are willing to invest $100 in a phone every month, you should be willing to invest $100 in your financial security.
If you don't enjoy researching investment ideas, you don't have the time, or you're afraid of not knowing what you don't know, then seek out a holistic fee based firm that will also give you advice as part of that fee. The fee based model makes sure the advisor's interests are aligned with yours.
Shield me from taxes
Tech employees tend to excel and have some great financial rewards. You may also be working for a unicorn and end up with a windfall. In either case you are probably getting killed by taxes, figuratively of course. Mr. Preece stated that reducing tax liability is extremely important because "I've worked hard to earn what I've got (often putting in late hours) and I want to ensure that I can enjoy as much of what I've earned as I can." The best financial advisors will work in concert with CPAs specializing in stock transactions to make sure you can shield yourself from as much tax as legally possible.
Tech employees have some unique needs. The right financial advisor can help address those needs and make sure your future is all that you expect it to be. As Mr. Holt said, an "advisor is one of the only ways to balance your money and invest in yourself."
---
i https://www.strictlyvc.com/2014/12/01/many-tech-companies-break-year/
ii https://www.cbinsights.com/research-unicorn-companies
iii http://www.cbsnews.com/news/quest-for-alpha-the-final-10-rules-for-being-a-successful-investor/