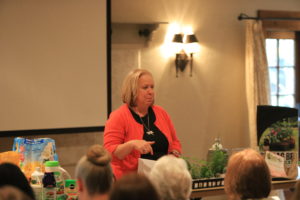 We had the wonderful opportunity to have Becky Pulver return. She works with J&J Garden Center in their education area. This time she taught us how to have success with container gardening. She gave us these tips:
Choose the right container. It matters.
Clay is heavy and will dry your soil.
Plastic is good, but may break down in heat.
Metal is good, but can rust.
It should be big enough for the plant to grow. (The roots grow as big as the plant.)
Have holes for drainage. This is crucial! Most plants do not like "wet feet."
Use coconut fiber to line your container, it will provide nutrients and absorb moisture.
Choose good soil and food.
Choose a good "moisture control" potting soil, or soil that contains peat moss and vermiculites. This helps your soil retain water.
Feed plants when you first pot and monthly thereafter.
When looking at fertilizer: 16-16-16.
First 16 is Nitrogen for green and growth.
Second 16 is Phosphorus for blooms and fruit.
Third 16 is Potassium or Potash for roots/stems.
Choose appropriate plants.
Compact "bush" or have a determined size.
Herbs are great to grow in a container.
Water, water, water.
In the heat of the summer, you will need to water your container every day.
The best things about container gardening: You can move your container and grow anything you want in it.