Research shows that we, as Americans, are saving far too little to support retirement lifestyles similar to our current lifestyles. There are three major headwinds that make things worse: people are living longer and will need more money, companies are doing away with pension programs, and Social Security benefits may be reduced if action isn't taken to shore up the Social Security trust fund.
The pendulum has swung from the World War II generation of savers to the Baby Boom generation of spenders. Inertia has a way of making the pendulum swing back to where we will become savers again.
A perfect example is the Millennial generation. Their first financial experience is the "Great Recession" of 2008 and now they are outpacing the other generations for retirement savings. Rather than wait for outside forces to compel you, start to supersize your savings to make sure your retirement will be everything you dream.
Reference the infographic to see how you stack up to other people in your age group. The infographic shows how many times of your salary you should have saved, an example of how much that is, and what the median savings amount is per age.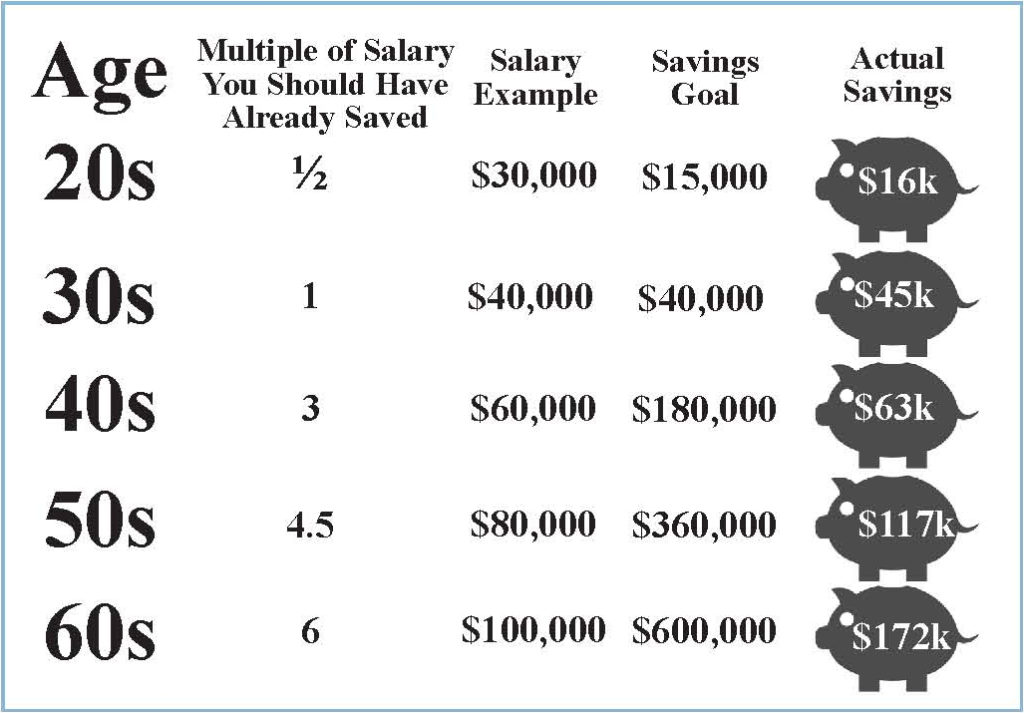 Notice how the people in their 20s and 30s are on track for retirement savings. It is really in 40s, 50s, and 60s where people fall behind. This is due to a myriad of reasons such as not saving enough, losing a job, or a major medical expense.
If you are on track for retirement, congratulations. Keep up the good work. If you feel like you are behind, don't despair. The best thing you can do is to get your ship sailing in the right direction: Get out of debt, pay down your mortgage, and start socking away money.
You should be saving 10-15 percent of your own money towards retirement. If that doesn't seem possible, try to increase your retirement savings by 2 percent now and then increase it 1 percent each year.
Saving for the future is not always easy, but it is worth it. If you want a personalized analysis to see if you are on track for retirement, please contact one of our private wealth managers.