There has been a great deal of media attention surrounding the Department of Labor's (DOL) recent ruling regarding the "Fiduciary Standard," and with good reason. Tony Robbins, self-help author and motivational speaker, recently asked random people walking down Wall Street, "What is a fiduciary?" With the exception of one individual, the answer was, "I don't know."
This made me wonder – Do our clients understand the benefits of working with a fiduciary?
When Smedley Financial Services, Inc.® began back in 1982 as a registered investment advisor, we became a fiduciary. We have always believed that putting our clients' interests before our own is the best way to create a lasting partnership with the people we serve.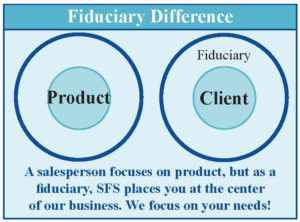 What is the Fiduciary Standard?
The Fiduciary Standard requires that we avoid conflicts of interest. Our recommendations must meet your needs and be in your best interest.
In contrast, financial professionals such as brokers, insurance salespersons, and other advisors operating under the "suitability standard" are merely required to ensure an investment is suitable for a client when purchased. There is little obligation to offer a better investment nor a requirement to monitor those investments in the future.
Why the big concern?
As company pension plans have diminished, Americans now must set aside more of their income to help supplement their own retirement income. This can be a daunting, time consuming task.
At the same time, the retirement investment landscape has only grown more complicated. Lack of investor savvy and awareness regarding retirement account types, not to mention the emerging number of investments available within those accounts, has led investors to rely on the counsel of professionals.
Unfortunately, not all professionals are alike. The new DOL rule seeks to level the playing field, requiring all financial professionals to follow the new Fiduciary Standard. Isn't it sad that a law must be put in place forcing financial professionals to do the right thing?
Will the rule protect investors?
The new DOL rule will require more work for financial professionals, but hopefully it will also protect investors saving for retirement.
The DOL also states that cheaper is not always better. Price cannot be the only determining factor when making a decision, especially one as important as your financial future.
Consider what you are getting for the fee you are paying. Does your fee include an advisor that will help you determine your financial goals, prioritize those goals, and design a plan to help reach your goals? Will you get ongoing monitoring of your goals and the investments you are making? What if something changes? Who will be there to help address the changes in your life that may impact your financial destiny? What will happen during periods of increased market volatility and who will help you determine if your investments are too aggressive or too conservative?
These are just a few of the concerns that must be considered, but are often overlooked when the primary focus is having lower fees.
You are our primary concern. We invite you to call or come in and sit down with us anytime you have questions. We welcome your call.