Social Security Maximization Strategies
You have paid into Social Security your entire working years, now it's time to reap the benefits.
Navigating Social Security can be somewhat overwhelming. There are many options to consider, some that no one has even told you about. Unfortunately, making a choice is not as straight forward as you may think. Take the timing of benefits for instance; some retirees want to claim benefits at age 62, the earliest age of eligibility, using a breakeven point as their guide. A quick decision like this could mean leaving tens of thousands of dollars behind.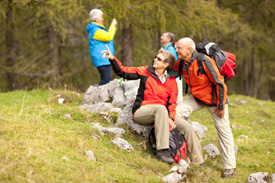 Choosing the right Social Security strategy benefits you and your surviving spouse. Through a Social Security maximization analysis; we can help insure that you have all of the facts before making an irrevocable decision. Applying strategies such as: waiting until age 70 when your benefit reaches its maximum level or filing for one benefit now, such as a spousal benefit, and then filing for the other benefit at a later age. These are just a few of the options that are often overlooked.
Other important factors include taxation on the Social Security benefits you receive, the earnings limit which affects those who are still working as well as those who retire and begin benefits mid-year, and spousal benefits for a non-working spouse.
We can help you navigate Social Security options and coordinate the strategy the best fits your personal goals.