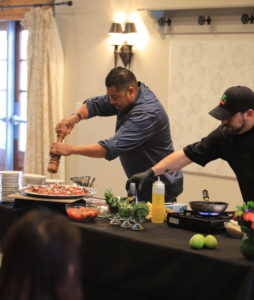 Rufo Dina, the executive chef at Archibald's Restaurant in Gardner Village, gave us a cooking demonstration on how to cook with herbs. He prepared the two recipes below and they were a hit!
Other tips from Rufo:
Add dry spices to food early so they have time to soften up.
Use less dry spices because the flavor is more concentrated and potent.
Bruschetta
Dice tomatoes and mix in a little olive oil, fresh chopped basil, chopped garlic, salt, and pepper. Place on sliced, toasted baguette. Then top with fresh mozzarella and balsamic glaze.
Fried Green Tomatoes
Slice green tomatoes, coat in all-purpose flour, dip in buttermilk and then coat with panko breadcrumbs. Place tomatoes in hot oil (about 350°F). Fry until slightly browned on each side.