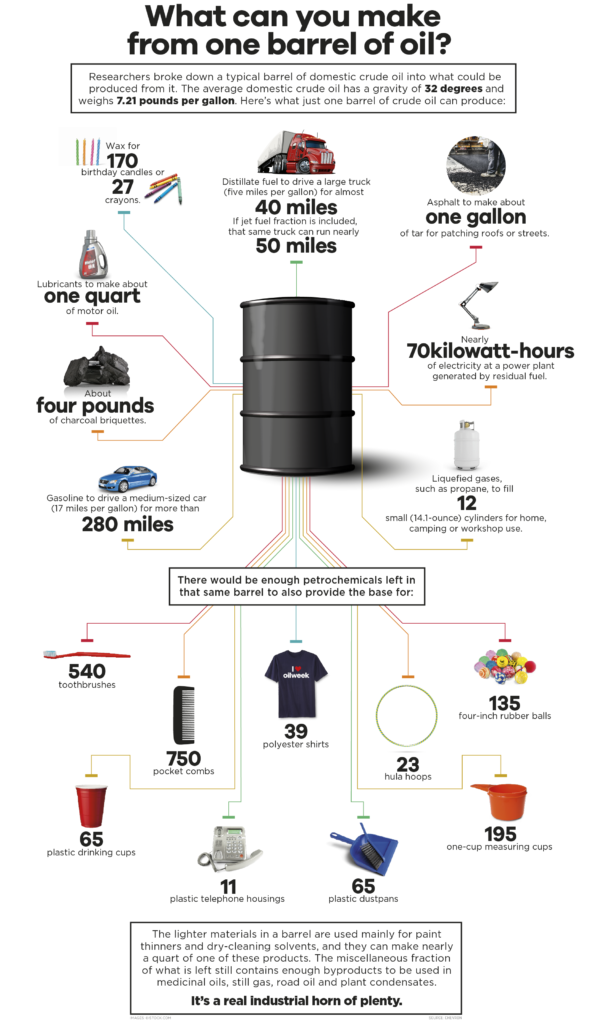 Despite record U.S. oil production, the price of a barrel has been climbing in 2018. The ripple effects can and will be seen throughout the economy in the coming months.
The average price of regular gasoline in the United States is nearly $3.00 per gallon. One year ago, it was $2.35.1 That's a 25 percent increase at a time when few expected such a rise.
Most Americans spend between 2 and 4 percent of their income on gasoline,2 so the direct impact on our spending may not seem like a big deal at first.
Americans, accustomed to the lower prices over the last couple years, have also been buying larger and larger cars.
We should also remember that oil is a major ingredient in many products we purchase (as illustrated in the adjacent graphic). While U.S. supply is growing, it has fallen globally.
Oil prices are still far from their all-time high of $136.31 in June of 2008. The domino effect of rising prices has also not been a major concern yet.
Global oil supply is the wildcard. If it increases (a real possibility), prices are unlikely to rise significantly. If it falls, rising prices may spread. Eventually, it could impact our spending.
Remember, consumers, drive 70 percent of the economy. So, if we cut back in our spending then the U.S. economic engine may slow as well. That's why we are watching oil more closely in 2018.
**************************
(1) GasBuddy.com
(2) U.S. Energy Information Administration
*Research by SFS. Graphic from Visual Capitalist. Investing involves risk, including potential loss of principal. Past performance does not guarantee future results. The opinions and forecasts expressed are those of the author and may not actually come to pass. This information is subject to change at any time, based upon
changing conditions. This is not a recommendation to purchase any type of investment.