Dear Valued Financial Partners and Friends,
The evening news often features the familiar image of the New York Stock Exchange (NYSE). It typically shows a group gathered on the balcony overlooking the trading floor ringing the opening or closing bell.
The irony. I've always shared a chuckle with Sharla's husband, Rich, for his astute observation: "When the stock market drops significantly, why do the people on the balcony clap so enthusiastically during the closing bell?" Great question. (Actually, it's because their company is being featured or recognized.) But the celebrating of a down day is truly ironic!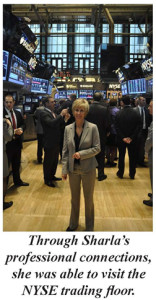 More irony. The stock market dislikes uncertainty. However, it is that very uncertainty that creates the opportunity for profits over the long run. The irony: The stock market, or more correctly, the market of stocks, thrives on uncertainty.
The ecstasy. Here's what Jeremy Siegel, PhD, said in the foreword of the 5th edition of his book, Stocks for the Long Run: "…there is overwhelming reason to believe stocks will remain the best investment for all seeking steady long-term gains."
Most of us are worried about our money lasting as long as we do. If we are too conservative or if we are too aggressive in our investing, we could easily end up with the same outcome—not having adequate funds. If we are too conservative and are averse to taking any risk, then our investments cannot keep up with inflation. If we are too aggressive and take too many chances, then we may forfeit what we have because we have risked too much.
For most of us seeking stock market gains, the stock market could be considered boring. It's like watching paint dry or grass growing. However, time and patience work wonders. Keep Jeremy Siegel's professional research and expert opinion in mind.
The ecstasy can come from sound investing and prudent financial planning. Remember, as a nationally recognized wealth manager, Smedley Financial's motto is, "Your financial success is our passion!"
Bullish Best Wishes,
Roger M. Smedley, CFP®
President