College. When being described by those with a diploma hanging on the wall, it is a golden age of lasting friendships and high-stakes pranks. When imagined by youngsters that haven't flown the nest, it is an escape from the demanding thumb of the parents. True, college is a great place to meet new people and discover independence; it is also a challenging time of learning to balance life with money.
The average college student graduates with $24,000 in debt, according to the Project on Student Debt.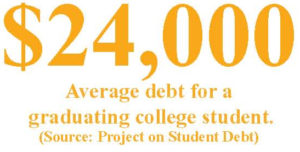 College doesn't have to be four years of ramen noodles and Friday nights at home—with the right money management, any college student can have the same outlook (even if it is forty years in retrospect) as those that have moved their tassel.
Tip #1: Look at the Long Run
For as many times as the incoming freshman has been told: "College opens up so many doors, do whatever you want to do," just remember that you cannot do everything that you want to do. Doing everything you want, satisfying every craving, or buying each impulse item will wipe out a bank account before the end of first semester.
Think about what will matter in a few years, rather than the latest craze or obsession. Will Jerusalem Cruisers last? Probably not. But having enough money to pay for next semester's rent will matter. Save money for the long run, rather than spend it on something temporary.
Tip #2: Be Budget Friendly
The best way to manage money is to have a set budget and stick with it. Download one of the hundreds of budget-making apps (Mint is recommended), and decide how much you are going to spend and save each month.
Don't just budget for bills and tuition; also budget for food, dates, books, and socializing. Being budget friendly goes beyond just having a reminder of how much you are supposed to spend though—you have to obey your own rules.
Find ways to cut back, whether it's buying used textbooks online, having a suburban mom's coupon book on hand, or trying your hand at a homemade meal. Many college campuses have fun free activities you can participate in. Having a budget will help you save money while still having enough for the essentials.
Tip #3: Shop Savvy
Taking a trip to the store is a dangerous activity; financially, that is. There are hundreds of options and sales, not to mention the pushy salespeople. To stay safe, shop savvy. Know exactly what you need to buy before you even enter the store, and how much you can spend.
Paying with cash is a great way to keep from going over-budget. Swiping a credit card is easy—sometimes too easy. It is easier to spend less when shopping with tangible money.
Be careful about the 5-buck-or-less temptations; those little buys add up quicker than you think. Finally, avoid impulse buys by making a 30-day waitlist. Put random finds and wants on the list. If in a month you still want something, chances are it will really add to your life.
Tip #4: Invest Early
Saving throughout college is the smart thing to do; automate your savings whenever possible. Leaving it in a bank or taped to the back of the toilet, however, isn't always the best choice. If you're not swimming in student debt or fishing coins from public fountains, it's a good idea to start investing.
Before you jump in and make rash decisions, read up. Use the library and find out what will work best for you.
Whatever path you choose, start small. Diversify your investments, and plan on a regular schedule. By investing early, you garner one of the greatest advantages: time. Even if your investments are small, they will grow with time.