Our current bull market is more than five years old. Since hitting a new high on March 28, 2013, the S&P 500 has continued to reach 67 more records—averaging almost one each week. Is this market too strong to continue or is it too powerful to end now?
Herbert Stein famously said, "If something cannot go on forever, it will stop." This undisputable fact is profound in its application to life and investing. In other words, planning for growth over a lifetime is reasonable, but a new high every week is an unrealistic expectation.
On March 28, 2013, the S&P 500 stock index reached a new, record breaking high. I wrote about this event in the following Money Moxie article, "Patience is a Rewarding Virtue." My conclusion then as it is now was to continue to hold on. Making money is what stock ownership is all about. I also pointed out that "The average return following a new high is positive for 1, 2, 3, 6, and even 12 months following the high." Fortunately for investors that forecast was correct. In the 12 months following that new high the S&P 500 made over 18 percent.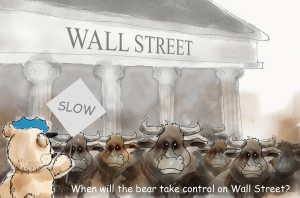 Don't Fear a Correction
This is an unusually strong time to be investing in U.S. stocks and it will not last forever. The S&P 500 averages one 10 percent correction each year and a few 5 percent drops. This is all it takes to spook some investors, causing them to miss out on the growth that follows.
While short-term events can be shocking, long-term returns are predictable. Investing in a diversified portfolio for long periods of time, such as 10 or 20 years, almost always yields positive results. Whatever happens, hang in there. Once we accept the fact that corrections are a normal part of stock investing we will begin to see them as opportunities to invest.
Indicators Look Good
Bear markets are typically defined as a drop of 20 percent or greater. These large drops are extremely difficult to predict. (Those who do are like broken clocks-correct only twice a day.) However, bear markets have some common threads.
1. The yield curve is the difference between long-term and short-term interest rates. It has turned negative around nearly every bear market in the last 50 years, but it is extremely positive right now.
2. Energy prices matter more than any other price in the world. Oil use has an impact almost ten times greater on the economy than any other commodity. So it is no surprise that oil prices have spiked around the end of bull markets in the last 40 years. (1987 was the only exception!) Right now, oil prices look relatively stable and thanks to growing domestic production there is reason to think it will continue.
3. Consumer spending represents 70 percent of the U.S. economy. On average, Americans are spending nearly everything they make, so we cannot expect much more from them. Improvement will come as the number of unemployed workers drops and as employers raise wages. While watching for increases has been like watching paint dry, it is happening. Momentum is positive in the jobs front.
Conclusion
New market highs come for a reason. The economy is continuing to improve. The most important indicators are pointing in the positive direction. The greatest warning sign in stocks is that returns have perhaps been too good. That alone is only enough fuel for a small correction, not a major bear market. When one of these corrections comes we should try to see it as an opportunity. This is an incredible time to be an investor.
*Research by SFS. Data is from the Federal Reserve Bank of St. Louis. Investing involves risk, including potential loss of principal. The S&P 500 index is often considered to represent the U.S. market. One cannot invest directly in an index. Past performance does not guarantee future results. The opinions and forecasts expressed are those of the author and may not actually come to pass. This information is subject to change at any time, based on market and other conditions, and should not be construed as a recommendation of any specific security or investment plan.