Planning for retirement is daunting, especially if you don't know where to start. In this article, we'll walk through the basics of two common retirement accounts and two different ways you can contribute to them so you can make a more informed decision.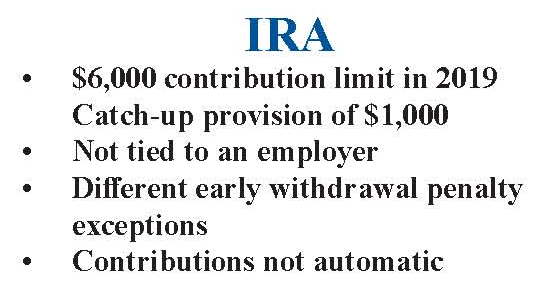 An IRA (individual retirement accounts) and a 401(k) serve similar purposes. They are both accounts that are used for retirement. They both have penalties for withdrawing money before age 59½ and the option to make traditional or Roth contributions.
So, which should you choose? If you don't have the option to contribute to a 401(k) then, of course, an IRA is the better choice. However, if you have the 401(k) as an option, that is usually a good option, especially if the company is matching part of your contributions, it is always a good idea to take advantage of an employer match. It's basically free money!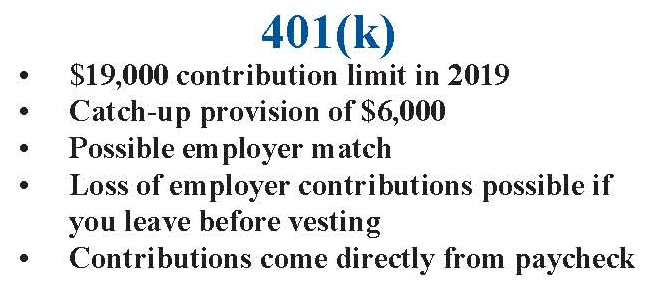 Another thing to consider is whether to contribute to a traditional account or a Roth account.
The primary difference between traditional contributions and Roth contributions is when they are taxed. Traditional contributions go into the account pre-tax, and everything is taxed as ordinary income when distributions are taken. In Roth accounts, the money is taxed before it is contributed, and the distributions are taken tax-free. Another bonus to Roth accounts, you can pass them to your heirs tax-free as well.
Depending on your personal situation, one account or the other may be more advantageous to you. In simple terms, if you are in a low tax bracket now, contributing to the Roth is a good idea. Tax rates are relatively low right now, and it's likely that they will be higher in the future. If you pay tax now, while in a low tax bracket, you will benefit from it because you won't have to pay taxes at the possibly higher rate in the future.
On the other hand, if you are in a high tax bracket now and expect to be in a lower tax bracket in the future, it would be prudent to make traditional contributions. The money will avoid taxes now and will be taxed later when your tax rate is lower.
Now that you're armed with information, you can make a better decision as to when, where, and how to contribute! Please call us with any questions.