Yes, stocks can help predict who will be the next President of the United States. While this particular election season has been filled with an unusual amount of conflict, the stock market has been surprisingly calm.
What does this calm predict? Very little, so far. Direction of the market in the final 90 days is what matters.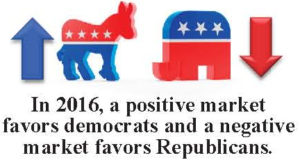 In 19 of the 22 presidential elections the change in the stock market in the 90 days preceding the election has correctly revealed the winner.
When the market rises during these 90 days then the incumbent's political party wins. When the market falls then the opposite occurs.
In August, the market was flat, which means that this election may be closer than some polls currently predict. Of course, there are no guarantees.