"It's tough to make predictions, especially about the future." One cannot argue with these words from Yogi Berra, who passed away September 22, 2015. After all, conditions in the world change much more frequently than people would like. With that said, let's review my predictions for 2015 and discuss what changed last year.
(1) Oil prices will remain near their lows until a major supplier cuts production.
No major supplier cut production and oil prices did end the year lower–lower than any reasonable forecast would have stated. We began the year at $53.45 and finished at $37.53 per barrel. That's a 74% drop from $145 in 2008.
This is great news for U.S. consumers! It's hard to remember the last time a stop at the gas station was so cheap!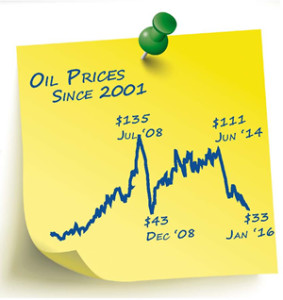 (2) Job growth and wage growth will continue. Our economy averaged 220,000 new jobs per month, which is over 2.6 million added in 2015. Unemployment continued its steady decline as it fell from 5.7 to 5 percent.*
This tighter labor market should increase wages, but the increase last year in income was just 2 percent–positive, but not as strong as I thought it would be.
(3) The Federal Reserve will be more patient with rates than most investors expect. The consensus view 12 months ago was that the Fed would raise rates in June. It turned out to be December and it was just a quarter of one percent.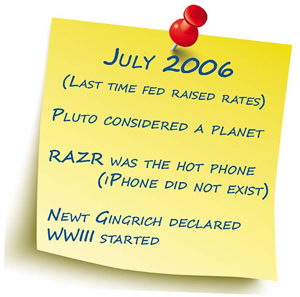 (4) Increased volatility will continue in 2015. The S&P 500 rose 3.5 percent, fell over 12 percent, rose almost 13 percent, and then finished down for the year. The S&P 500 rose or fell at least 1 percent twice as many days compared with 2014. December, one of the best months historically, was negative by more than 3 percent.
(5) The world will not pull the United States into recession. Our economic growth rate is 2.2 percent and it appears that the U.S. economy has helped lift those of other nations around the globe.
*Research by SFS. Data from Federal Reserve Bank of St. Louis. Investing involves risk, including potential loss of principal. The S&P 500, S&P 600, and Dow Jones Global are indexes considered to represent major areas of stock markets. One cannot invest directly in an index. Diversification does not guarantee positive results. Past performance does not guarantee future results. The opinions and forecasts expressed are those of the author and may not actually come to pass. This information is subject to change at any time, based upon changing conditions. This is not a recommendation to purchase any type of investment.