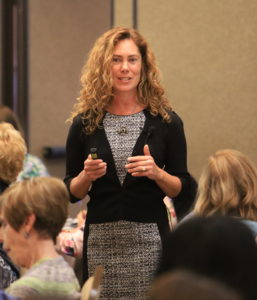 Being financially savvy has a massive impact on our lives, as well as those of our children and grandchildren. Kelly Ness, of American Century Investments, focused on improving our family's finances.
The principles of financial responsibility are not well taught in schools. According to a recent study, high school children claim 88% of their financial education came from their parents.
Where do children learn money management? Statistically, children are far more likely to be savers than spenders if their parents or grandparents talk to them about money. So, what should we say?
First, we need to understand our own money habits. Which behaviors do we want our children to replicate? Which should they not follow?
Next, we need to open a dialogue. Discuss saving, investing, debt dangers, and charitable gifting. It is also important to be open about household income and budgeting. In this way, they can learn from real and personal experience.
An allowance is a great way for young children to learn. Kids who receive an allowance tend to save more than those who do not. Children should also have financial goals. This can be a great opportunity to teach them about working for income and saving for purchases. When it comes time to buy, they will have an understanding of its worth.
Creating the time to teach your children or grandchildren about financial responsibility will pay dividends. It's never too early, or too late. Bring your older children or grandchildren to your next appointment at SFS and allow them to ask questions. This will help to reinforce the value of planning, investing, and saving for the future. If you have questions regarding family financial education, please reach out to us. We would love to help you help them.