Sharla J. Jessop, President of SFS, taught us at the Just for Women conference how to "Let it Grow" from a wealth perspective.
She reminded us that "The best way to attain money and wealth in life is no secret … spend less than you make!" She went on to teach us the best way to have your wealth grow.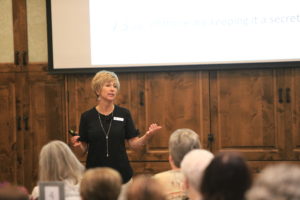 When investing, manage your risk and don't freak out! Make sure you are emotionally comfortable with your investment plan.
Protect what you have with a "financial bodyguard." This is someone to watch over your wealth when you can't. Finally, make sure your beneficiaries are up to date and educate yourself about cyber threats.