Looking at performance of the stock market over the last 12 months, one might assume that the economy is exploding upward. The rise has been driven mostly by a boost in consumer sentiment, which has taken off since the U.S. elections in November.
In 2017, consumer sentiment hit its highest level in more than 10 years!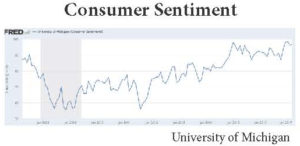 Consumers represent 70 percent of the U.S. economy. Their confidence is crucial to future growth. Business spending is much smaller, but it is also much more volatile. So, when businesses are increasing their spending, the economy really has potential to move up. The good news is that optimism is also up for business executives.
Confidence data is nothing more than opinion polls. This is why they are referred to as soft data. Hard data represents real action. Typically, these go hand-in-hand: A change in one leads to a corresponding change in the other.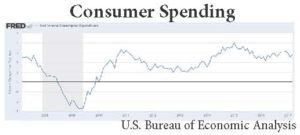 After inflation, consumer spending is up, but just by 2.8 percent.
The trend in the hard data does not match that of the soft data. The Federal Reserve does not seem concerned.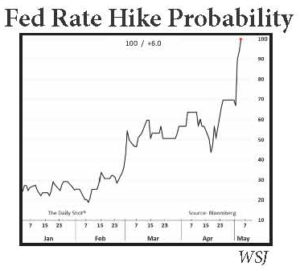 The Fed raised rates last December and March. Expectations are nearly 100 percent that it will raise them again in June–despite first quarter economic growth of 0.7 percent.
How does one reconcile the gap between opinion polls and actual improvement? What is likely to happen?
The U.S. economy is still improving. Unemployment is down to 4.4 percent. Corporate profits are up. Energy prices are down. Finally, global growth appears to be entering its first synchronized period of growth in two decades. According to BlackRock, European earnings are up nearly 20 percent in the last year.
Add to this good news the potential for positive surprises and it becomes more clear why a glass-is-half-full perspective is better.
Soft data could finally lift hard data
Increased global trade will help U.S. companies
Wages should rise with tight labor market
Deregulation could create more opportunities
Corporate tax reform may boost profits
Infrastructure spending could boost productivity
Any one of these surprises could help convert optimism into action. The timing is the greatest uncertainty, but that is no reason to be overly concerned. With so many positive economic changes occurring in the world right now, we believe there are plenty of opportunities
in 2017.
*Data from the Federal Reserve Bank of St. Louis. The S&P 500 index often represents the U.S. stock market. One cannot invest directly in an index. Investing involves risk, including potential loss of principal. The opinions and forecasts expressed are those of the author and may not actually come to pass. This information is subject to change at any time, based on market and other conditions, and should not be construed as a recommendation of any specific security or investment plan. SFS is not affiliated with any companies mentioned in this commentary.