Market movement since Election Day has been massive and investors see this as confirmation of just how good Republicans are going to be for the economy. How could so many investors be wrong? Actually, fairly easily.
Right or wrong, investors should be careful not to get carried away. There is a high amount of uncertainty and no way to know what the future will bring.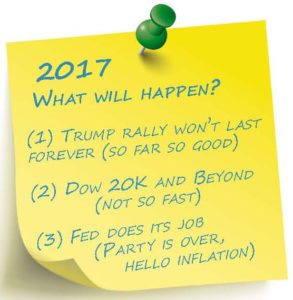 (1) Trump Rally
The big move in stocks in November and December has been an acceleration of the positive momentum already taking place in the economy. It has been characteristic of many presidential election years with a good economy.
It is completely normal to get excited, but don't let it lead to overconfidence. Few things last forever and most years have their ups and downs.
It is not unusual to see inauguration day (Friday, January 20, 2017) mark a change for investors as they realize the new president does not have a magic wand.
(2) Dow 20K
The Dow stock index has been flirting with 20,000. It just could not quite get there in 2016. In 2017, I believe it will! And it will likely cross that mark many times.
The first time the Dow reached 10,000 came in March of 1999. Over the next 11 years, it crossed that level on 34 days until it surpassed it a final time in the summer of 2010.
It's hard to fight gravity and it's hard to turn a large ship. There is so much positive momentum right now that I expect it to continue. Unemployment is falling. Wages are rising. Confidence is climbing.
One unknown is the impact of policy changes on global trade, which may decline this year as the United States turns its focus inward.
(3) Fed Does Its Job
The Federal Reserve is likely to "take away the punch bowl just as the party is getting started."
For two consecutive years I have accurately predicted that the Fed would be more cautious than its own forecast. This year, I am accepting the Fed's forecast that it will raise rates 3 times in 2017.
Of course, no one knows with certainty because with each rate hike, I expect investors will become more concerned.