"If you want to see the sunshine you have to weather the storm." In its first 3 weeks, 2016 delivered investors more than a 10 percent loss–the worst start in 80 years. Our natural human instinct at such moments is to feel that it will continue, but predicting the markets is extremely difficult.
In a dramatic turnaround, the U.S. stock market rose in February and March–recording the best recovery in 83 years.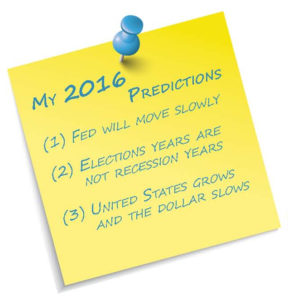 (1) Fed will move slowly. The Federal Reserve planned to raise rates 4 times in 2016. This aggressive forecast in combination with falling oil prices spooked investors. Then came the uncertainty of Brexit and the U.S. elections. By year end, the Fed raised rates just once (in December).
(2) Election years are not recession years. I expected the economy to grow and for the market to continue to rise as our bull market entered its 8th year.
This positive outlook proved beneficial in the early days of 2016 when the resolve of many investors was tested. The market turned positive and remained there for most of the year.
(3) United States grows and the dollar slows. A strong U.S. dollar is not as good as it sounds. Sure, it's great for Americans traveling overseas, but it presents challenges for large U.S. companies and investors.
The year began with too much strength: From July 2014 to January 2016, our dollar rose against every major currency around the globe! It gained 20 percent versus the euro and 54 percent versus the Russian ruble!
Fortunately, the U.S. dollar spent 9 of the last 12 months below January 2016 levels. That gave investors more opportunity as we invested globally.
This international diversification helped a great deal until a great divide formed in November.
These investments have taken a break as U.S. stocks rose in November, but I believe the worldwide economy still looks positive and may offer benefits to investors again in 2017.